His Holiness the Dalai Lama concludes 3-day teachings in Leh 
Preaches on 'A Guide to Bodhisattva's way of life'& Avalokiteshvara empowerment
By
Stanzin Dasal
Leh, Jul 31, 2022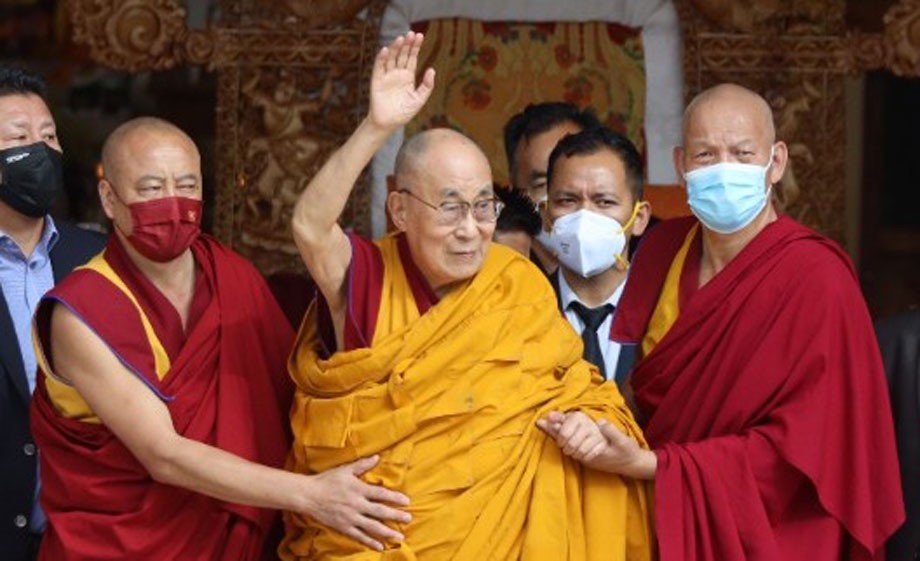 Leh :
His Holiness the 14th Dalai Lama taught Chapter 9 of Shantideva's A Guide to the Bodhisattva's Way of Life on July 28 and 29 and conferred Avalokiteshvara Empowerment on July 30 at Jevetsal, Choglamsar.
Thousands of devotees from different parts of Ladakh and hundreds of tourists gathered to take the blessing of His Holiness.
His Holiness stresses the importance of developing a compassionate heart and warmheartedness which is a key factor for a meaningful life and one's own health and mind. His Holiness spoke about living a life with a good heart because everyone living in a community depended on each other, thus helping each other and spreading happiness.
Talking about the preservation of culture and tradition, His Holiness stated that Tibetan even after living in exile succeeded in preserving Tibetan tradition and Buddhist philosophies by taking different measures. His Holiness also spoke about the re-establishment of traditional monastic centers of learning in South India with the support of the Government of India, as well as NGOs and charitable organisations.
"If people in the Himalayan region, from Ladakh to Arunachal Pradesh, can preserve their Buddhist cultural heritage, they will make a great contribution to the flourishing of Buddhism in the world", His Holiness added.
 His Holiness also stressed the importance to study, develop and promote Buddhist philosophies. The Dalai Lama emphasized the importance of the people of Ladakh preserving their deep Buddhist cultural heritage through the study of Buddhist texts. 
His Holiness advised not to be just satisfied with rituals and prayers but to try and understand Buddha's teaching.
On the second day, His Holiness explained that Shantideva's 'Entering the Way of a Bodhisattva' is an effective text to follow if you wish to lead a meaningful life.
He read the text of Entering the Way of a Bodhisattva right from the start. His Holiness said that is an excellent guide to the ways to cultivate the awakening mind of bodhichitta. 
"I keep a copy beside my bed and read it whenever I can. What's more, people interested in learning about emptiness will benefit from studying the ninth chapter of this book.", His Holiness added.
On the last day, His Holiness conferred Avalokiteshvara empowerment, the embodiment of great compassion followed by a short long-life prayer to His Holiness offered by the Ladakh Buddhist Association and the All Ladakh Gonpa Association.