Hill Council, Leh welcomes Secretary, Ravinder Kumar; discusses major projects
By
Reach Ladakh Correspondent
Leh, Jul 13, 2020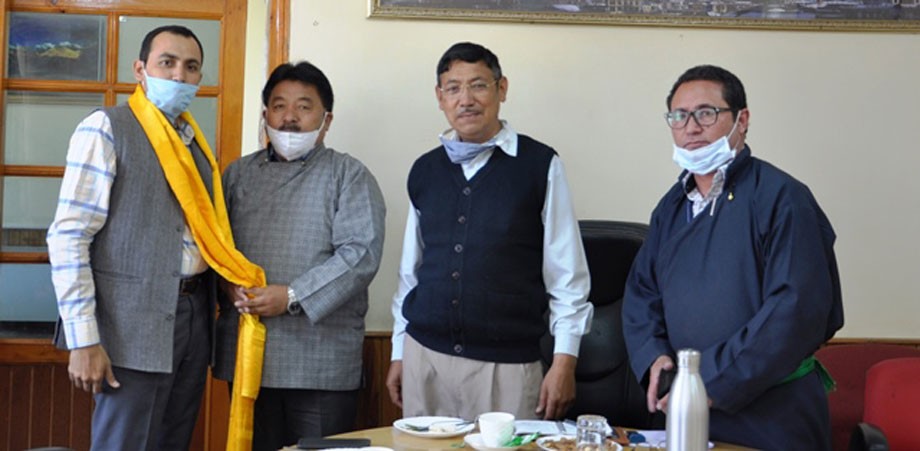 Leh :
 Hill Council, Leh lead by Gyal P Wangyal, CEC welcomed Secretary, Ravinder Kumar, and discussed departments under his portfolio on July 13.
Expressing great hope on Ravinder Kumar, Gyal P Wangyal said that his administrative experience including his service as SDM Nubra in the year 2014-15 would immensely benefit Ladakh. 
He briefed Secretary Kumar about the functioning and role of Hill Council, Leh in the overall development of Leh district. Also, he highlighted the need of solving stray dog menace in Leh district on priority, early completion of Ice Hockey Rink at Leh, promotion of sports like Archery, Marathon, Athletics, Ice-Hockey, and Boxing.
Phuntsog Stanzin, EC Agriculture stressed early completion of Cold Storage and Milk Pasteurization plants at Leh to benefit farmers in the coming months and provision for allotment of Cow units under the Mission Organic Development Initiative scheme. 
Gyal P Wangyal highlighted the scope and potential of Solar, Hydel, and geothermal energy in Leh district. He directed Secretary Kumar to focus on mega solar energy projects starting with 50 MW Solar Power Plants at Leh and laying of transmission lines in Dha-Hanu valley to make the best use of 18 MW Hydel power generation from Dha and Hanu Hydel projects which are at the last stage of its commissioning.  
Ravinder Kumar assured to give his best in achieving the maximum and quality results, focusing on major pending and new projects. 
He said that to solve stray dog menace which is becoming a major problem and threat for humans as well as domestic and wildlife animals in Leh will be taken seriously by involving the community in a campaign mode in the coming days. 
He said that Ladakh not only has huge potential to become self-reliant in power generation but can emerge as a supplier of clean energy to other states in the future. He further added that harnessing solar, hydel, and geothermal energy in Ladakh would be a prime focus. 
Regarding technical education and skill development in Leh, Secretary Kumar said that he is trying to expand the campus of the Entrepreneurship Development Institute (EDI Leh) to conduct skill training to unemployed youths of Ladakh at large scale.