Hill Council, Leh signs MoU with LEDeG for water, sanitation, and local toilet pilot projects
By
Reach Ladakh Correspondent
Leh, Jul 24, 2020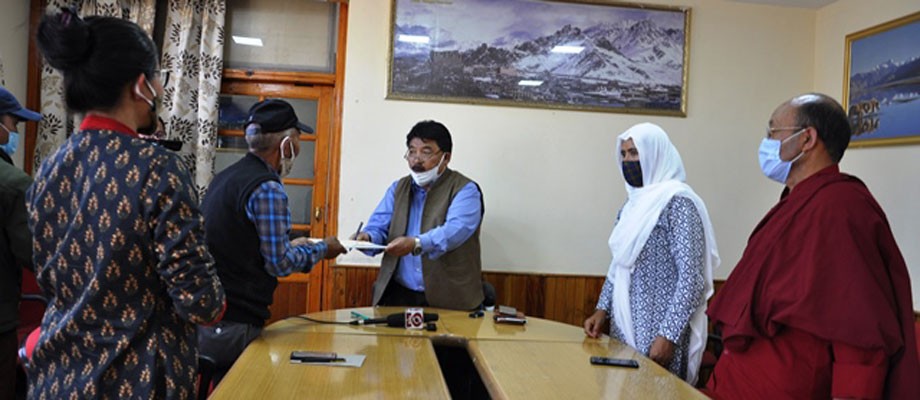 Leh :
Hill Council, Leh and Ladakh Ecological Development Group Ladakh (LEDeG) signed a Memorandum of Understanding on July 23 to implement four major pilot projects in the urban area of Leh.
The projects include integrated 24x7 decentralized water and sanitation project, demonstration of an improvised model of community-based Ladakhi toilet, Integrated water, sanitation and hygiene centre for Municipal sanitation workers, and Multiple community stand post based water supply system in Leh.  
Gyal P Wangyal, CEC, Hill Council, Leh, and Executive Director LEDeG, Ishey Tundup signed the documents in presence of ADC, Leh, Dr. Zahida Bano, Ven. Lobzang Nantyak, Councilor, Upper Leh, Asma Yousuf, Project Manager, BORDA and Tashi Lundup Documentation and Publication, LEDeG.
Executive Director LEDeG about the aim and objective of the pilot projects. Funded by BORDA, LEDeG will target to complete these projects in the next three months, and based on the success of these projects, similar projects will be proposed for the coming years.
He requested CEC to ensure full support and cooperation from the concerned govt. agencies in the timely implementation of the projects.
Gyal P Wangyal thanked LEDeG for coming up with these pilot projects in Leh city. He hoped that such important projects will go a long way in improving and solving water, sanitation, and toilet facility problems in Ladakh.