Hill Council, Leh, reviews education policy
By
Reach Ladakh Correspondent
Leh, Jan 24, 2020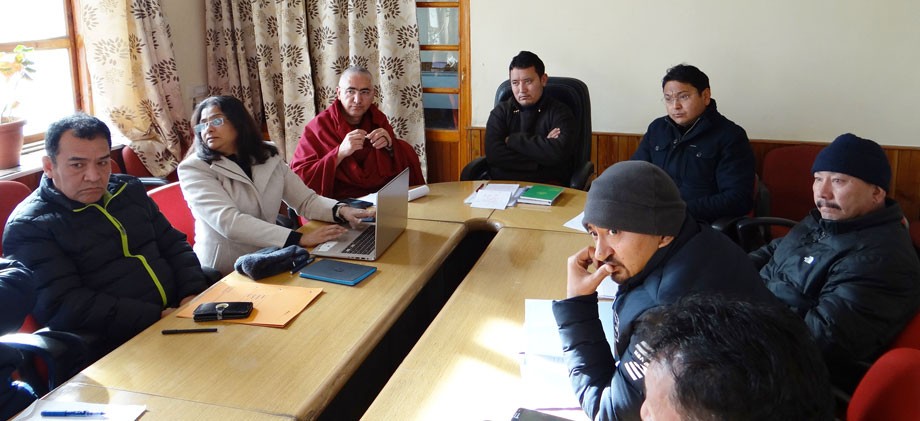 Leh :
To give suggestions for designing an inclusive education policy for Leh district in next 3 to 4 years, Konchok Stanzin, EC Education convened a meeting with the educationist and senior intellectuals of Leh district on January 23.
Discussion on the need of research on the education system of Leh, school infrastructure, strengthening of kindergarten /ICDS, shortage of teaching staff, categorization of teachers subject wise, assessment of teachers training and strict monitoring on the implementation of teachers training through committees were held.   
Also, method of teachings, importance of Bhoti language from kindergarten level, medium of instruction, moral education, lack of reading habit among students and in society of Ladakh, introduction of skill courses, improvement in textbooks, programme on education system of Leh on AIR, Leh and DDK Leh, physical, art, music and theatre education, scholarship and many more were discussed.
Based on the MHRD data of Leh district presented by Sujata Sahu, Founder 17,000 ft Foundation, a discussion was led on the reason behind decreasing trend of student enrollment on govt. schools, results and increasing school dropouts.
The meeting stressed to include moral ethics, concept, experimental and research-based education system besides academic results.
Tsering Angchuk, Councilor Diskit; Geshes Konchok Wangdus, Principal CIBS Choglamsar; Prof. Deskyong Namgyal, Principal EJM College Leh; Tsetan Dorjey, DEPO, Leh; Tsering Angdus, A.D Planning; Principal KV School Leh and Principals of Higher Secondary Schools, ZEOs and teachers were present.