Hill Council, Leh, approves ₹ 232 crore capex budget for 2020-21
Major hike in key sectors like Education and Health
By
Reach Ladakh Correspondent
Leh, May 12, 2020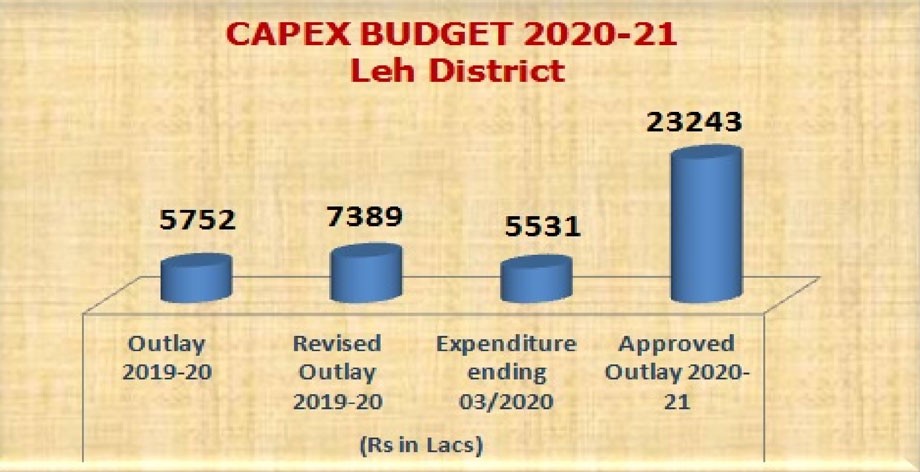 Leh :
The Executive Council meeting of Hill Council, Leh held under the chairmanship of Gyal P. Wangyal, Chairman/Chief Executive Councillor, Hill Council, Leh on May 11 at Council Secretariat.
₹ 232 crores was approved for Capex budget 2020-21 for Leh district.
 
Due to COVID-19 pandemic, this year annual General Council Meeting was confined to ECs to approve the plan. Sachin Kumar, Deputy Commissioner/CEO Hill Council, Leh and Tsewang Gyaltson, CPO, Leh also attended the meeting. All Councillors have already submitted their new schemes proposal of their respective constituencies and also CEC and concerned ECs already verified sector-wise ongoing schemes.
 
The Chairman discussed the achievements and expenditure achieved during the financial year 2019-20. CEC Wangyal briefed that out of total ₹ 73.89 crores in revised outlay in regular schemes; a total of ₹ 55.31 crores was expended in last financial year till March 2020.
 
Taking serious note regarding very low expenditure recorded by some key departments after demanding additional funds under revised outlay 2019-20, CEC directed concerned ECs and DC, Leh to ensure proper planning and execution of works in the current financial year 2020-21 as due to COVID-19 pandemic the execution of works are already delayed.
 
As compared to last year Capex budget of ₹ 57.52 crores, this year Capex budget approved ₹ 232. 43 crore which is four times more than the last year budget ( 400% hike). Some key sector got a major jump in the allocation of funds including education with 500% hike as ₹ 15 crores was approved as compared to last year ₹ 3 crores and health sector with a hike of 440 % with ₹ 12 crores as compared to last year ₹ 2.7 crores.
 
After discussion on all the sectors, proposals and queries raised by the Councillors earlier, CEC approved the Capex Budget 2020-21 with certain modifications and deletions.