Hill Council, Kargil to promote Yarkashing twin medicinal springs, Karchay Khar Chamba
By
Reach Ladakh Correspondent
Kargil, Aug 15, 2020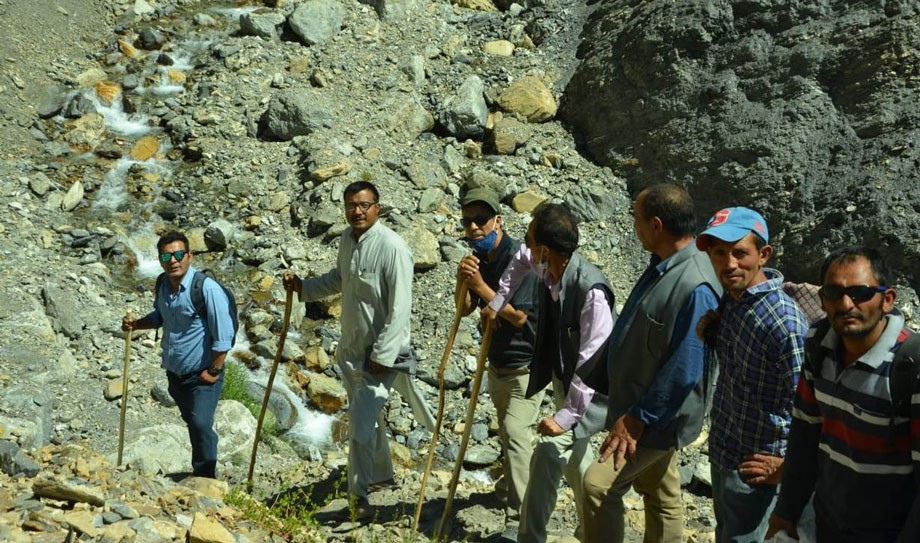 Kargil :
Executive Councillor for Tourism, Er Phuntsog Tashi checked possibilities for creating necessary tourism-related infrastructure at the twin medicinal springs at Yarkashing village, Karchay Khar Chamba, and other tourism sites in Barsoo Nallah and Suru Karchay on August 15.
Phuntsog Tashi underlined the importance of twin medicinal springs, an emerging tourist destination in Kargil district. He said that Hill Council will explore all possible options to develop the area in every aspect.
He further informed that considering the importance of the twin medicinal springs, CEC Kargil, Feroz Ahmad Khan has approved for the construction of link road from Yarkashing village to the site of the twin springs.
According to the locals, the spring is known to have healing powers for back pain, joint pain, acidity, and infertility problems.
Meanwhile, the EC also visited the site of Buddha Rock Statue at Karchay Khar, the tomb of Rgyal Khatoon and other historical sites in the area.
During his visit to the rock carving structure at Biama Khumbu near Lankarchay village, he gave on spot instructions to the SDM Sankoo, AD Tourism, and other concerned officers to demarcate the land for development of the area besides preparing estimates for construction of walling and other necessary structures at the site. 
Councillor Tai Suru, Aga Syed Abass Razvi; Councillor Barsoo, Sheikh Muhammad Ansari; Councillor Thasgam, Abdul Rahim; SDM Sankoo Ghulam Mohiuddin Wani; AD Tourism Kargil, Aga Syed Toha, engineers of Kargil Development Authority (KDA) besides other concerned officers and the local villagers were also present.