Hill Council, Kargil, passes 4 points resolution 
Demands statehood, protection under the 6th Schedule of the Indian Constitution, Separate Lok Sabha seats for Kargil & Leh, and establishment of Ladakh Public Service Commission
By
Stanzin Dasal
Kargil, Nov 25, 2022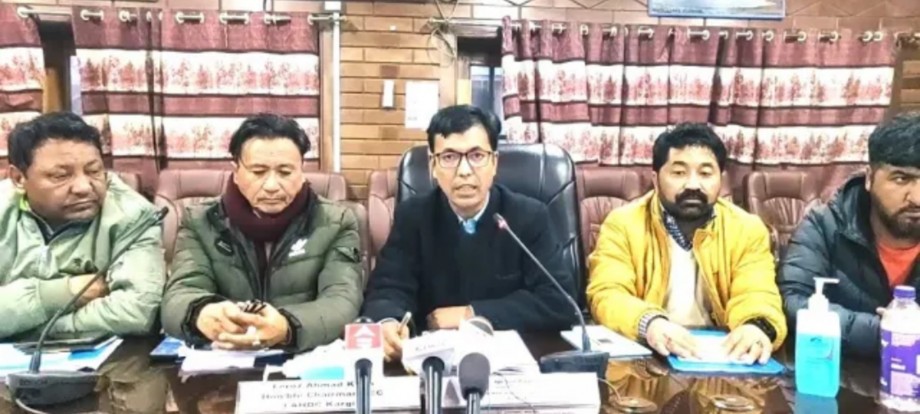 Kargil :
Ladakh Autonomous Hill Development Council (LAHDC)-Kargil passed a resolution on November 25 demanding full-fledged statehood for Ladakh, protection under the 6th Schedule of the Indian Constitution, Separate Lok Sabha seats for Kargil & Leh Districts, and Establishment of "Ladakh Public Service Commission" with the Ladakh Resident Certificate as a mandatory requirement for all recruitments for Gazetted Posts in UT Ladakh.
 
The resolution was moved by Engineer Punchok Tashi, Executive councilor for tourism and Zanskar affairs, and was seconded by Councillor Syed Abas Rizvi. 21 out of 26 councilors signed the resolution. 
 
Addressing the press conference, Phuntsog Tashi, EC Zanskar Affairs, Hill Council, Kargil said, "After reorganization, the apprehension among the people regarding land, job, trade, environment, and culture has grown which is why the need for a sixth schedule of the Indian constitution is felt. 6th schedule guarantees special provision for the protection of tribal areas; Ladakh is predominantly a tribal area hence people of Ladakh are demanding what is already stated in the constitution."
 
"Ladakh after UT status, there is no clear coordination, protocols, and business rules of Hill council, administration and Panchayati Raj system which has created chaos, confusion and is becoming very challenging to run the administration. Also, Ladakh is a strategically important place there is a need of providing full-fledged statehood", he added.
 
Citing the example of the internal rift created among the people of Leh and Kargil during the MP election, He talked about the need for separate Lok Sabha seats for Leh and Kargil districts to maintain communal harmony in a sensitive and strategically important place. Also, the need for the Ladakh Public service commission and reservation of all gazette posts for the residents of Ladakh by making the Ladakh Resident Certificate mandatory was highlighted.