HH Dalai Lama honoured with 6th Ladakh dPal rNgam Duston award
By
Reach Ladakh Correspondent
Leh, Aug 05, 2022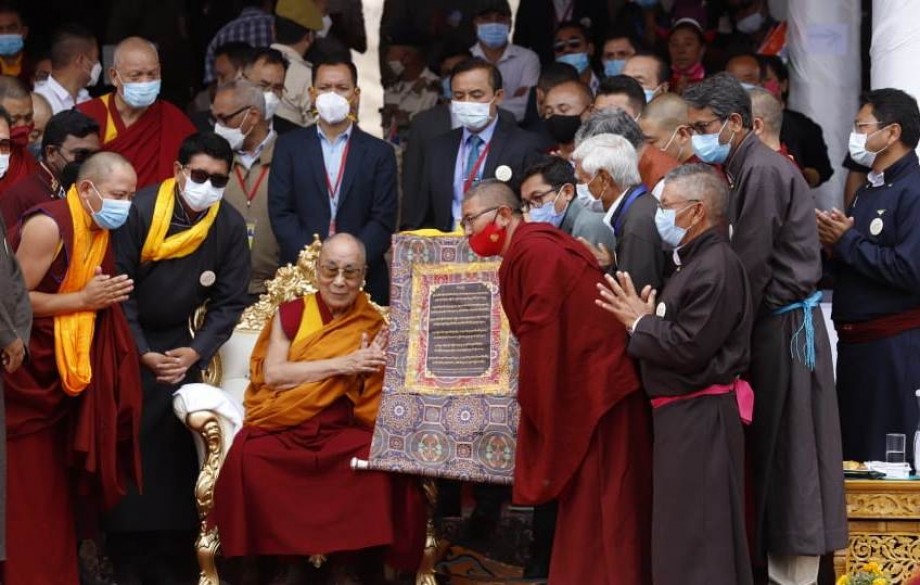 Leh :
The Ladakh Autonomous Hill Development Council, Leh celebrated the 6th Ladakh dPal rNgam Duston, themed 'The Glory of Ltsangpo Singe Khababs' with great fervor on the occasion of UT Ladakh Declaration Day on August 5 at Sindhu Ghat.
His Holiness the 14th Dalai Lama was honoured with the 6th Ladakh dPal rNgam Duston award for his immense contribution to humanity and especially to Ladakh.
Expressing his gratitude to the people of Ladakh for awarding, His Holiness said he was greatly pleased with the receptions and devotions received from the Ladakhis while promising similar visits in the future.
His Holiness reiterated oneness in the message of all religions and expressed his commitment to the promotion of peace and compassion. Apart from the promotion of universal peace, His Holiness conveyed dedicated efforts in mitigating the effects of global warming through advocacy while stressing the essentiality of preserving greeneries for future generations. Meanwhile, he lauded the Ladakhis for their effort in increasing tree plantation and maintaining the ecosystem.
He advised students to study well and Buddhist followers to wholeheartedly study and practice the teachings of Buddha.
Chairman, LAHDC Leh,Tashi Gyalson expressed his heartfelt gratitude to His Holiness for accepting the Ladakh dPal rNgam Duston award and raising the stature and prestige of Ladakh and the award itself. He also highlighted the reasons for the selection of the theme focusing on the glory of the Indus River. 
"It was also an attempt to raise awareness among all regarding the ecologically fragile environment of Ladakh and the need to act sustainably", added CEC Gyalson.
MP Ladakh, Jamyang Tsering Namgyal said that Ladakh is blessed to have the opportunity to bestow the highest award of Ladakh to His Holiness the 14th Dalai Lama on the auspicious occasion of Ladakh dPal rNgam Duston 2022. 
Advisor UT Ladakh, Umang Narula shared that dPal rNgam Duston marks the celebration of the remarkable contribution and achievement of the heroes of Ladakh and seeks to instill a sense of pride in the younger generation.
On the occasion, various cultural performances, a cleanliness drive from Kharu to Sindhu Ghat by the ALTOA, and a painting competition among other things were organised.
His Holiness Galden Tripa Rinpoche; His Eminence Thiksey Rinpoche; HE Thuksey Rinpoche; HE Urgain Rinpoche; HE Khamtak Rinpoche; HE Khilkhang Rinpoche; previous recipients of Ladakh dPal rNgam Duston awards; Executive Councillors and Councillors of LAHDC Leh; Secretaries and officers of UT Ladakh Administration; Officers and officials of District Administration; Block Development Council Chairpersons, Prominent political leaders; Heads of various socio-religious organisations; Sarpaches; Nambardars and students from different schools attended the occasion.