Handloom and Handicraft Dept organises awareness-cum-product demonstration program in Kargil
By
Reach Ladakh Correspondent
Kargil, May 07, 2023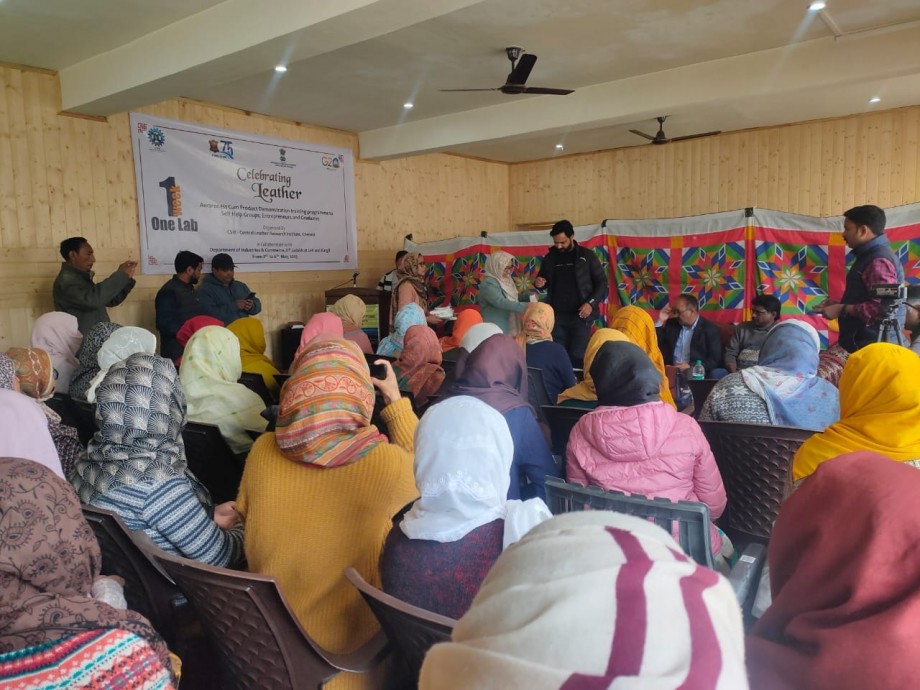 Kargil :
An awareness-cum-product demonstration program under the banner of 'Celebrating Leather' was organised by Handloom and Handicraft Department Kargil in collaboration with CSIR-Central Leather Research Institute (CLRI), Chennai for Self Help Groups, entrepreneurs, and graduates on May 6.
Additional Deputy Commissioner, Kargil, Ghulam Mohi-ud-Din Wani spoke about the need to organize such programs and training for women in Ladakh. He appreciated the durability and design of products produced by the trainees of the Handloom and Handicraft Department Kargil.
The ADC instructed the trainees to implement new techniques for better production adding that the production should be unique and represent Ladakh.
Assistant Director Handicraft Kargil, Raziya Khatoon said it is the continuation of training held last year and it will help the trainees to improve their skills.
She said the program is aimed to enlighten the trainees about new techniques to produce a product that has more economical value in the market. She hoped that the program will be fruitful for all trainees.
Principle Scientist/Master trainer, P S Suresh Kumar asked the trainees about their skills and work in crafting a product. He took feedback from trainees regarding techniques and the material used in producing a product in Kargil.
Kumar instructed that the new products should represent Ladakh and assured to provide the required material for producing leather products.
In the end, District Superintendent Handloom Kargil, Iftikhar Ahmad briefed about the training provided to trainees of Handloom and Handicraft Department Kargil and hoped that the program will have fruitful results. He also thanked ADC Kargil, other officials, master trainers, and especially trainees for participating in the program.