Gyal P Wangyal visits flood-hit villages of Nubra
Assures early assessment of property loss to claim relief
By
Reach Ladakh Correspondent
Nubra, Aug 13, 2019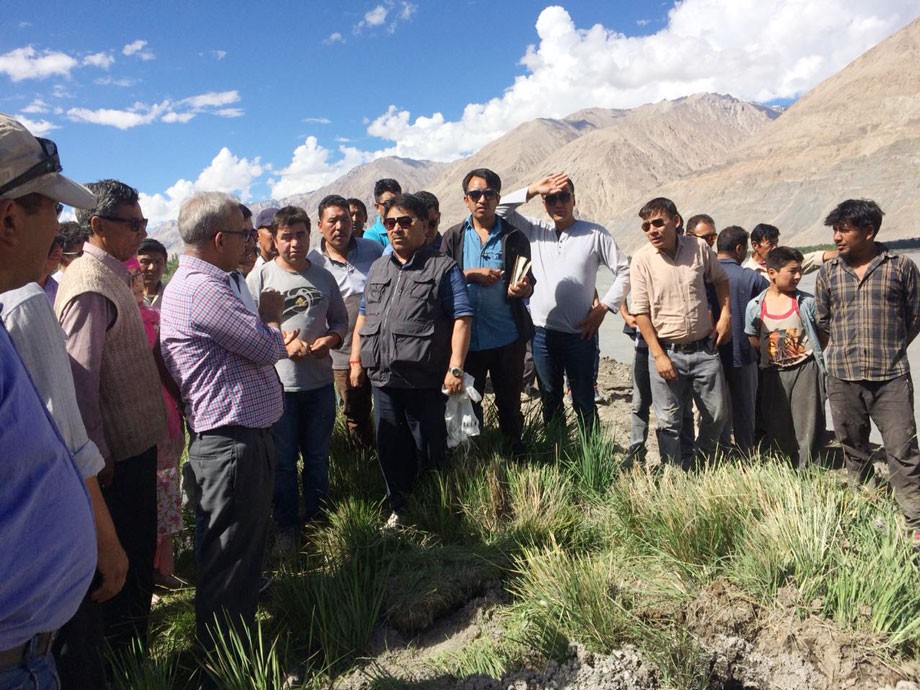 Nubra :
Flash flood damages cultivable lands, trees and houses in Morgi and Burma villages of Nubra valley on August 10.
To assess the damages caused due to flash floods and overflow of Siachen River, Gyal P Wangyal, CEC visited and met people of the affected areas on August 12. 
 
Tsering Sandup, Deputy Chairman, Rigzin Spalgon, ACR Leh, Sonam Norboo, SDM, Nubra, SE PWD Leh, Tehsildar Sumoor, concerned engineers and officials were also present.
 
Gyal P Wangyal informed that at Morgi village two residential houses along with their standing crops including vegetable fields and trees were damaged severely.
 
While interacting with the affected families, he assured villagers for the earliest assessment of property loss through revenue staff to claim relief. 
 
ACR Leh and Tehsildar Sumoor were directed to mobilise their field staff along with the concerned department officials to assess the loses and submit the report to Council at the earliest.
 
At Burma village, standing crops along with trees were completely eroded due to the overflow of Siachen River. CEC directed SE PWD Leh to do the needful immediately to stop further erosion of land. He assured for assessment of property lose for claiming relief and assured that Hill Council, Leh will do its best to compensate the loses.  
 
People of Trisha village which was hit by flash flood last year demanded a speedy restoration of their link roads, drinking water pipelines and removal of debris from their agriculture fields. 
 
Gyal P Wangyal directed SE PWD and concerned officers to make a proposal and submit to the Council. 
 
At Charasa village, people headed by Councilor Tegar Rigzin Lundup apprised about the demands of the village. CEC assured to give due consideration to the genuine demands of the village.