First UT-level Immediate Emergency Assistance Committee meeting held
By
Reach Ladakh Correspondent
Leh, Apr 10, 2023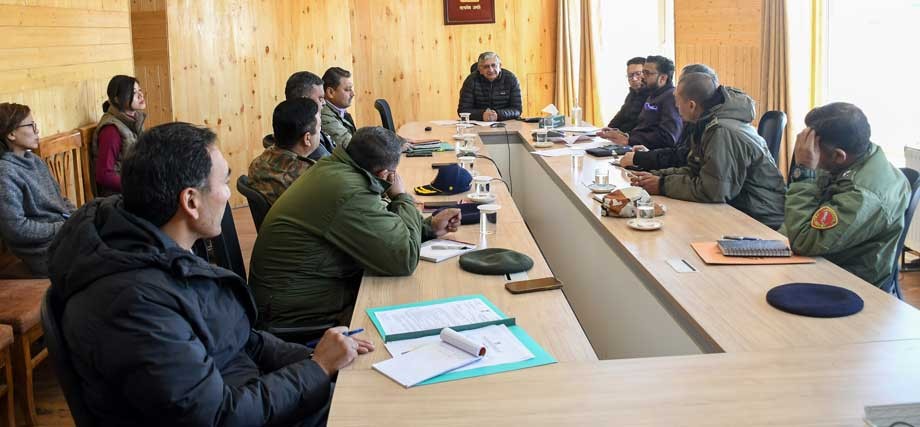 Leh :
The newly constituted UT Level Immediate Emergency Assistance Committee (IEAC) held its first meeting on April 8 at the Civil Secretariat, Leh under the Chairmanship of Advisor Ladakh, Umang Narula.
The committee was constituted on the directions of the Lieutenant Governor, Brig (Dr) BD Mishra (Retd) for effective planning, monitoring, and management of any kind of crisis or emergencies arising in the Union territory of Ladakh.
The IEAC is also responsible for assessing and continuously monitoring all kinds of crisis situations, preventing the recurrence of such emergencies in the UT, providing expert guidance, and devising contingency plans, interventions, and guidelines. The committee will evaluate existing resources, synchronize activities among different departments and agencies, and involve appropriate authorities in the Government to manage crisis.
During the meeting, the existing emergency response systems were reviewed and areas for improvement were identified. On the directions of the Lieutenant Governor, it was decided to constitute a study group to develop SOPs for mobilizing various agencies and stakeholders for a quick and coordinated response in providing immediate assistance to people in case of any emergency.
Presently the Emergency Response Support System (ERSS) can be accessed by dialing 112 which is a Pan-India single number-based emergency response system for citizens in emergencies. It was emphasized that this number be widely publicized to both tourists and locals. 
ADGP Ladakh, Satish Khandare informed that Ladakh Police has developed and launched a mobile application called "Julley Tourist" on Android to provide tourists with a comprehensive platform to access information about tourist destinations, maps, eco buses, and the 24x7 police helpline number in the event of an emergency. It was informed that the Ladakh Tourist Police maintains communication with travel agencies, the hospitality sector, airlines, bus, and taxi unions to assist tourists with any information they may require. Tourist can easily access any information they need through this application, he added. 
Furthermore, in case of an emergency, the users can seek help via this application, and the system will automatically connect to ERSS Dial 112, which will call them back and dispatch a team of tourist police to their location thus providing swift assistance in any emergency and helping the tourists.
Commissioner/Secretary, A.K. Sahu informed the meeting that Emergency Operations Centre (EOC), a communication hub designed to ensure an effective response to disaster situations will be soon made operational in the UT. He shared that the manpower to operate the software has already been hired and trained.
Director Health, Dr. Motup Dorjey informed the meeting that to deal with any high-altitude medical emergency the Health department has procured and kept ready several Gamov bags at the nearest medical centers at various critical locations, viz, Khardung La; Tsoltak near Chang La; Spangmik near Pangong Lake, and Tangste Medical Centre among others. Further, it was informed that oxygen parlours were already functional at Health and Wellness Centres Kargyak and Rangdum in Zanskar.
He also shared that oxygen parlours will be functional at the Khardungla top; Gya village on the Leh-Manali highway; Tsoltak, Zangla, and Abran Health and Wellness Centres in Zanskar. Besides oxygen parlours shall also be set up at 3 new tourist routes opened by the Tourism Department which include, Phobrang at Marstemik La-Tsog Tsa Lu route; Shayok-Galwan route, and Panamik-Siachen route.
Regarding the National Ambulance Service, Dial 108 the Committee members were informed that 8 new Advanced Life Support Ambulances are being procured and the Health Department will also retrofit the existing BLS Ambulances with ALS equipment. Furthermore, a hyperbaric chamber will be installed shortly at the SNM Hospital Leh. The Committee suggested that Health department should consider augmenting the strength of doctors during the tourist season to cater to the increased workload.
The committee also discussed the need for improving public awareness and education on emergency and disaster situations.
The meeting was also attended by representatives from LAHDC Leh/Kargil; IG, ITBP Ladakh; Station Commander HQ 14 Corps Leh; Air Officer Commodore, Airforce Station Leh; Chief Engineers Himank/ Vijayak/Yojak, and SP, UTDRF, Unit Ladakh.