First canine veterinary clinic inaugurated at Changspa
By
Fatima Ashraf Barcha
Leh, Jul 11, 2015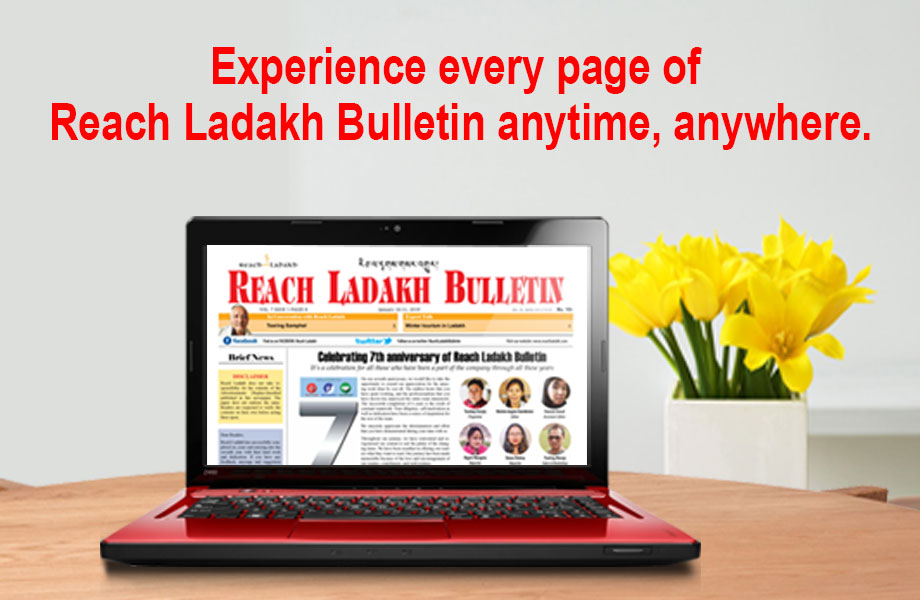 Leh :
The first canine veterinary clinic for animal birth control (ABC) & anti-rabies (particularly for stray dogs) was inaugurated by H.E Thuksey Rinpoche on 4th July at Changspa.
Presenting the welcome speech, Dr. Abdul Qayum-Chief Animal Husbandry Officer said under the project Young Drukpa Association (YDA), Municipality Committee, Leh and the newly formed NGO LAWS (Ladakh Animal Welfare Society) will work hand in hand to reduce dog population in the region within five years. They aim at sterilizing as many dogs as possible. He thanked H.E Thuksey Rinpoche and Municipality Committee, Leh who had sponsored for the construction of the clinic and the metal cages and roofing in the shelter hall. He also said that when the project was initiated the veterinary doctors had held meetings and discussed with European doctors regarding methods to curb dog menace. He also emphasized that the department does not have any monetary schemes for the problem of dog menace; however with the help of all the contributors the work has been successfully initiated. An MOU was signed the same day which contained that the surgical and technical work is to be conducted by LAWS and the financial support is to be given by YDA, Druk Padma Karpo School, Municipality Committee, Leh and a five lakh financial contribution by the Animal husbandry department in the near future. He also spoke about extending their clinic branches to other blocks like Nubra, Khaltse, and Nyoma.
H.E Thuksey Rinpoche said that Foreigners appreciate the people of Ladakh a lot in the religious sense. They even talk a lot about love and compassion, but these qualities are not implemented practically.
"In one of the universities of Germany I was giving a talk to the students, some of them actually showed me the photos of a Ladakhi person mistreating a dog. Then I realized that we need to address this issue instantly. So along with YDA we took some initiatives into making a shelter for the stray dogs."
He thanked Dr. Abdul Qayum for having advised and encouraged him in making the Live to Rescue project possible. He also thanked all the other contributors especially Nawang Rigzin Jora, Rigzin Spalbar and the veterinary doctors' team for their support and encouragement. He said, "Showing kindness to animals is the way of becoming a compassionate human, regardless of if one is religious or not."
CEC Rigzin Spalbar in his speech said since few years dog menace has become a huge problem in the region. He added that earlier there were no compassionate ways of taking care of stray dogs but now with time it is changing and people are working towards helping and caring for stray dogs and other neglected animals. He also said that the project which was initiated by YDA is a huge task and they have shown dedication in their work which is appreciable. He said that the NAC, Municipal committee and Animal Husbandry Department had been working to tackle ®the problem of dog menace in our region earlier, but they were not very successful. Then with the advice of H.E Thuksey Rinpoche the work was jointly handled with YDA. He added that the Municipal Committee, YDA, LAWS and young veterinary doctors have decided to work extra to put additional efforts into curbing the problem of dog menace. However, he added that in coming days it is hoped that the army will show interest and support this project.
Stanzin Kunsang, Principal of Druk Padma Karpo School also spoke on the occasion. She congratulated H.E Thuksey Rinpoche, YDA and other contributors of the project. The school donated an amount of ₹30,000/- to the project Live to Rescue.
In the end, YDA President-Padma Tashi gave the vote of thanks. He thanked Rigzin Spalbar for having supported this cause from the very beginning. He also thanked Nawang Rigzin Jora for having sanctioned₹35 Lakh for the project. He also said that YDA was very encouraged when they were awarded at Ladakh International Heritage Film Festival last year for their work. He further thanked Dr. Abdul Qayum for his advice about not staying limited to the stray dog, taking this suggestion into consideration the Nang Shelter is providing shelter to other animals too. He also thanked NAC Head-Dr Zaida Bano and her team of workers. Apart from thanking Animal Husbandry department and LAWS team of veterinary doctors he also thanked all the individual contributors YDA President Nubra -Tashi Darges, Hemis Gompa Chakzod-Nawang Otsal, Dechen Angmo and her family, Nawang Jorges , Stanzin Kunsang, and all those people who adopted dogs from the Nang shelter.
An MOU has been signed between the concerned authorities and YDA. Under it, the Municipal Committee workers team will catch around 10 to 15 dogs per day, bring them to the clinic where the doctors of LAWS and Animal Husbandry Dept. will conduct sterilization surgery or look at other ailments that the dog is suffering from. Under the same MOU, Live to Rescue team will take care and provide food till the dogs recover and then these dogs will be sent back to their respective areas from where they were brought. Stray dogs in dire health conditions, with the approval of the doctors, will be sent to Nang Shelter to be taken proper care of.
This clinic has been constructed under the Live to rescue project of YDA. At the beginning of the event, a short film by Live to Rescue was shown which focused mainly on the condition of stray dogs in Ladakh and other neglected animals in general. The movie aimed at sensitizing people to treat these animals with love and care. Preceding the documentary, the veterinary doctors were shown performing a live sterilization surgery at the clinic.
LNP (Liquid Nitrogen Plant) and Lamul's (Ladakh Amul) curd and paneer producing plants were also inaugurated on the same day by H.E Thuksey Rinpoche.
YDA also donated ₹6, 85,805 to the International NGO, Live to Love for relief and rehabilitation in the villages of Nepal that were affected by the earthquake this year.