Extra effort needed to enhance enrollment in govt schools, says Director Education, Ladakh
By
Reach Ladakh Correspondent
Leh, Nov 16, 2019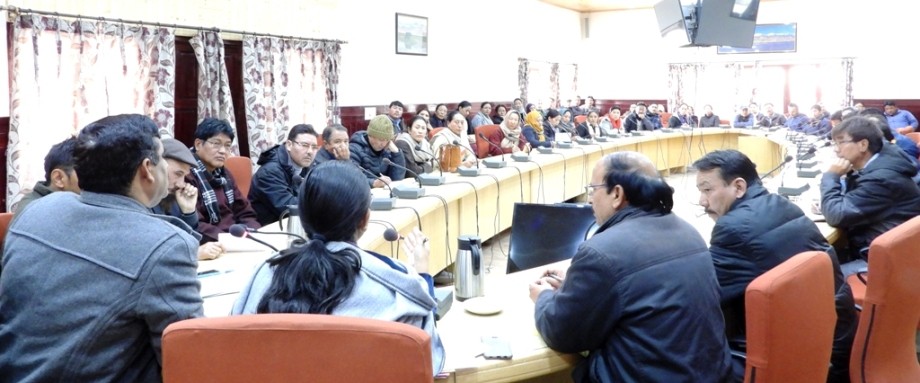 Leh :
To take first-hand information about the education scenario in Leh, Director of School Education Ladakh Mohd. Mumtaz Ali convened a meeting with Education Department on November 15.
Expressing concern over the declining trend of enrollment in Govt. schools in Leh district, Director Education asked the officers and teaching faculties to seriously think on it and put every effort to enhance the enrollment with retention in all Govt. schools.
"Added motivation as well as extra efforts to increase the student enrollment on the basis of availability of qualified teaching faculty as well as good infrastructure facility in all Govt. schools is needed", said Mohd. Mumtaz Ali.
He said that subject teacher would be made available to the schools on priority but he cautioned the teaching staff to ensure much more improved results in future specially at 10th and 10+2 levels. He further urged the institutional heads to prepare complete data of every teaching staff in terms of academic qualification, tenure feature and other details so that their performance record can be ascertained for removing the lapses.
 
He sought school wise details of infrastructure requirement within two days and also asked them to submit accurate data of sanctioned strength of staff. 
Tashi Dolma, Joint Director Education Ladakh said though the results of 10th and 12th levels were satisfying but the low enrollment in Govt. schools is a matter of concern.
Cautioning the teaching staff, she said that in case of further declination in teacher-student ratio, the teaching staff could face the consequences of transfer outside Ladakh or giving up jobs.
She asked the officers and teaching faculty to make serious effort to enhance the student's enrollment in all Govt. schools. Tashi Dolma further stressed on the head of the institutions to make them more familiar with digital technology to boost their administrative competency.
Tsering Angdus, Assistant Director Planning (Education) said that the annual budget of the Education Department Leh has been increased from ₹ 3.00 crore last year to ₹ 68 crores this year. He said that there will be sufficient fund for infrastructure as well as teaching aids.
Girdari Lal, Chief Education Officer, ZEOs, Principals and headmasters were present in the meeting.