EC, Mubarak Shah reviews developmental activities in Drass Sub Division
By
Reach Ladakh Correspondent
DRASS, Jul 04, 2020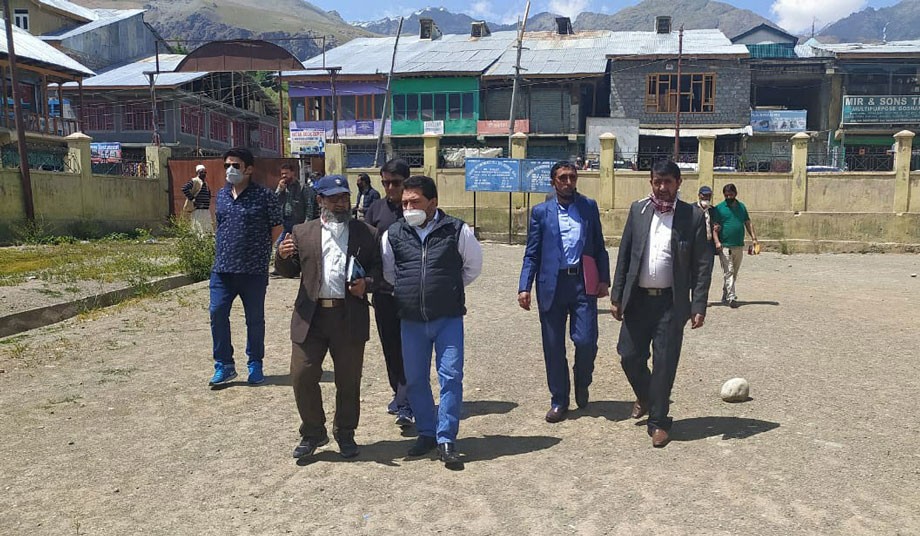 DRASS :
EC Works and Information, Mubarak Shah Naqvi also the Councillor of Drass Constituency took stock of the status of implementation of various ongoing and approved works and schemes on July 4.
He convened a meeting with the officers and PRI members of the Drass Sub Division. Sub Divisional Magistrate (SDM), Drass, Asgar Ali, engineers of R&B, PHE, I&FC, officers of Health, FCS&CA, Rural Development, and other concerned departments besides Sarpanchs and Panchs attended the meeting.
Mubarak Shah Naqvi was briefed about the status of the implementation of various schemes and works. He stressed upon all departments to ensure the kick start of all works at the earliest so that the works are completed in a time-bound manner. Also, he directed them to accelerate the pace of work on the ongoing schemes, and those works already started this year to ensure their completion as per the stipulated timelines. 
While taking stock of the availability of ration, medicines and other essential supplies in the Sub Division, concerned officers were asked to ensure the dumping of remaining supplies well before the onset of winter so that the public do not face any inconvenience during the winter season. 
He announced a month free ration in favor of the PHH and AAY households of Drass Sub Division including Kaksar village.
Meanwhile, Mubarak Shah Naqvi also met several public delegations at Dak Bungalow Drass and addressed their grievances and demands which mainly included repair of water supply connections, augmentation of drinking water facilities, macadamization of roads and other related issues.
Responding to the demand for augmentation of drinking water supply, he asked concerned officers of PHE to deploy 1 water tanker for the Drass area.
Later, the EC also visited Higher Secondary School, Drass, and inquired about the status of ground leveling and other up-gradation works for which funds have already been sanctioned under Rural Development.
Principal, Higher Secondary School, Drass was asked to explore possibilities for the establishment of temporary classrooms in the higher secondary school for running classes for the students of Degree College, Drass as the present rented building has limited capacity to accommodate around 200 students who are studying at the college.
He also took a brief from the officers of the Health Department about the ongoing COVID-19 mitigation measures by the Administration in Drass Sub Division and expressed satisfaction on the overall arrangements. He appealed to the public of Drass to follow the COVID-19 SOPs and preventive measures in letter and spirit to keep themselves, their families, and the community safe from the deadly Coronavirus.