EC, Education, reviews infrastructure, academic needs of Tharuk and Satoo Residential School
By
Reach Ladakh Correspondent
Leh, Jan 11, 2020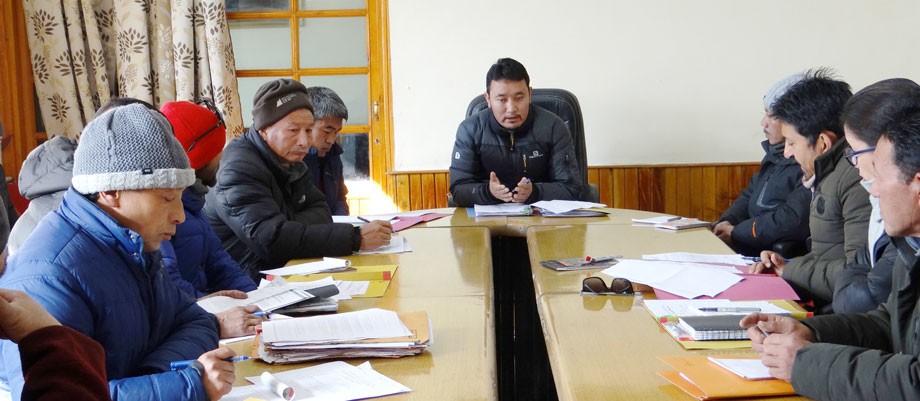 Leh :
The infrastructure and academic needs of Residential Higher Secondary School Tharuk-Tangtse, Residential High School Satoo-Kargyam and Middle School Tharuk were reviewed by Konchok Stanzin, EC Education on January 10.
He reviewed the action taken reports of all the works assigned to different executing agencies by Hill Council, Leh in the previous biannual review meeting of Residential School Tharuk-Tangtse in August 2019 and during the visit of these schools by EC.
Taking serious note of the noncompliance of few assigned tasks, EC Konchok issued strict instruction to the executing agencies to complete the works assigned by Hill Council, Leh in future or give reasons in denial timely so that Council would explore other means to solve the problems and issues. 
He also directed all the Principal and Headmasters of Govt. schools that they must be aware of the works being carried out in their respective schools through different agencies and report higher authorities about the progress and quality of the works time to time.
Konchok also directed DEPO, Leh to ensure the transfer of complete teaching staff in both the residential schools so that students studying in these remote schools of Changthang region could not suffer in future.
Some of the works completed in last few months highlighted were the boundary wall of Middle School Tharuk, procurement of furniture and washing machine and completion of aluminium glass room for staff at Residential School Tharuk. 
R&B division informed that a DPR for Indoor Stadium amounting to ₹ 1.87 crores, Laboratory and Library ₹1.32 crore, Kitchen and Dining hall ₹ 1.70 crores for Residential School Tharuk is ready for further submission. 
Likewise, PDD Leh informed that ₹12 lacs 25 KV Transformer with a dedicated power line for Tharuk school is also proposed for funding. AD Planning Education informed the meeting that funds for 5 KV Solar Power Plant for Residential High School Satoo-Kargyam and Residential School Nyoma is also available with education department through wildlife department which will be executed through LREDA in coming months.
Other demand and issues including drinking water, toilet, internet, posting of warden both for boys and girls in schools and electricity problems of schools were also discussed.