EC Education conducts meeting on development of Bhoti textbook
By
Reach Ladakh Correspondent
Leh, Jun 27, 2020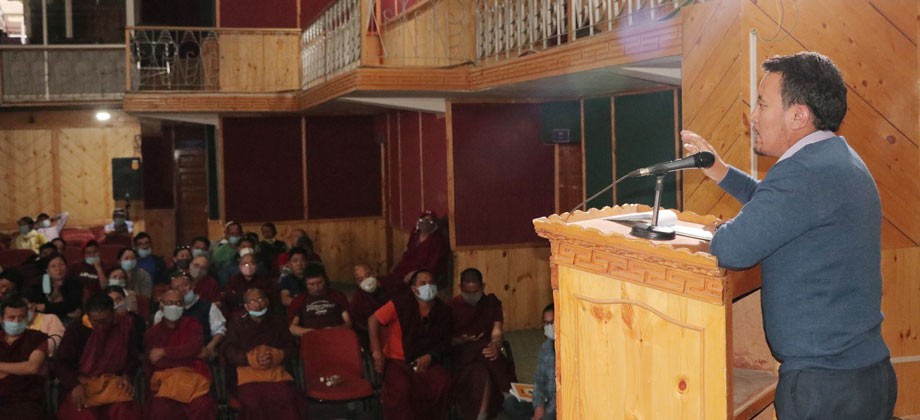 Leh :
A meeting with Bhoti teachers of Govt. /private schools of Leh district was convened by Konchok Stanzin EC Education, Hill Council, Leh on June 27 at Lotsava Hall, Ladakh Cultural Academy, Leh. 
 
Konchok Stanzin stated that the purpose of the meeting is to amend/alter the Bhoti textbook published by Phethup Khamtsan Educational Society Leh (2014) and to suggest some modifications in the present textbook published by J&K Board.
 
Discussion on textbooks published by different institutions and organizations and the adoption of Bhoti textbooks in different schools of the district was carried out.
 
Teachers gave their inputs and shared experiences related to the textbook of Pethup Khamtsan and J&K Board. They suggested colorful printing, contents made according to the class, simple wording with grammar, adding story, history, and science in textbooks to make the Bhoti subject interesting and attractive for students.
 
Other major issues such as making Bhoti as UT Ladakh's the official language, creation of Bhoti teacher post, promotion and transfer of Bhoti teachers, the introduction of Bhoti subjects in KV, and JNV schools, revised textbooks, and quality printing textbooks were raised by the teachers during the meeting. 
 
Konchok Stanzin said that all the issues raised by the teachers in the meeting will be taken-up with higher-level authorities and proposed to raise all the issues with UT Administration. He further assured to solve all the genuine demands on priority.
 
Chief Education Officer, Leh, Tsetan Dorjay; Representative of Pehub Khamtsan Educational Society, Leh, Geshe Thupstan Phuntsok, and Bhoti teachers of govt. /private schools of the district were also present during the meeting.