E C Konchok Stanzin meets R K Mathur, Lieutenant Governor
Requests R K Mathur to visit Changthang region in February
By
Reach Ladakh Correspondent
Leh, Feb 06, 2020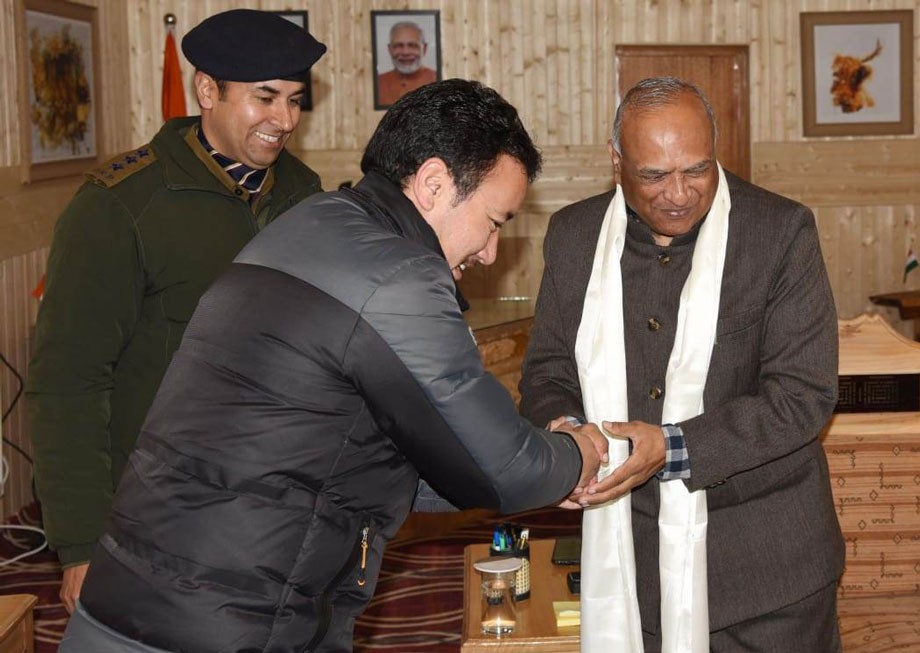 Leh :
Various issues and demands of the Changthang region were highlighted by Konchok Stanzin, EC Education during his meeting with R K Mathur, Lieutenant Governor, Ladakh on February 5 at Raj Niwas.
Konchok Stanzin requested R K Mathur to visit Changthang region in February.
Various issues and demands including implementation of ₹600 crore Changthang Development Project, Pashmina projects for Changthang, pasture land development in Changthang region, completion of Leh-Nyoma power transmission line, connecting Durbuk with power transmission line and issuance of special identity card to the nomads living in border areas of Changthang so that they can graze their livestock without any problem was highlighted.
Talking about the entire Leh district, he highlighted the need of budget allocation for replacement of batteries in all the 139 Solar Power Plants, installation of mobile towers in uncovered areas, creation of Bhoti and Arabic teacher posts, filling up of the vacant posts of Junior Engineer in Rural Development Department, merger of ReTs to General Line Teachers and transfer thereof, implementation of already enhanced diet charges from ₹50 to100 in residential schools and regularization of all the Residential Schools.
R.K Mathur assured due consideration for all the genuine demands and also to visit the Changthang region soon.