Divisional Commissioner reviews preparedness for winter stocking in Ladakh
By
Reach Ladakh Correspondent
Leh, Jun 21, 2020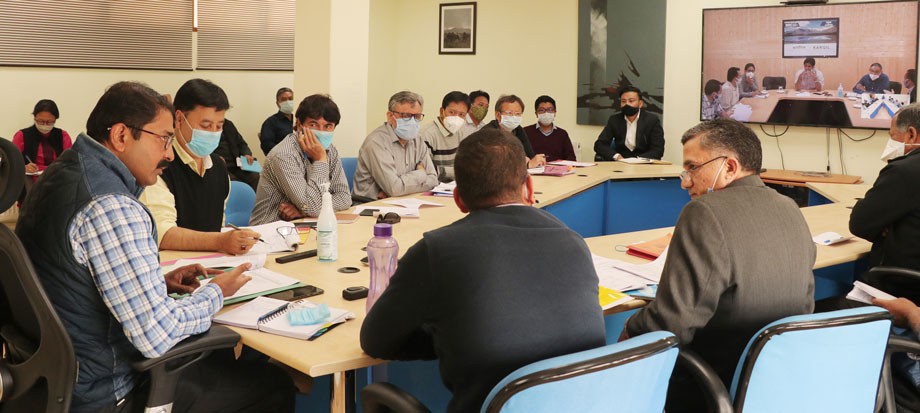 Leh :
Meeting of the various departments regarding winter stocking was convened by Saugat Biswas, Divisional Commissioner, Ladakh on June 20.
He sought details from the departments about their current position of stocking, their action plan, and invited requests for the intervention of the administration thereof.
Briefing about the position of the departments of the district, Deputy Commissioner, Kargil Baseer-ul-Haq Chaudhary gave a detailed account of the issues and requirements of the departments. He stated that efforts will be directed to rejuvenate and strengthen the Cooperative Department, early stocking of fire-woods, procurement of medicines on time with equal attention to the stock the requirement of fodders and medicines for animals, and other issues.
Discussion with various departments of Medical, Forest, Food, Animal & Sheep Husbandry, Oil Companies, Power as well as private Merchant Association was carried out.
Saugat Biswas directed the departments to float tenders well in time to avoid any delay in ordering as well as the procurement of goods before the closure of the highways. He gave directions to the relevant departments to put up a proposal for construction of FCI godown at Zanskar & Kargil, fair-price shops, granary stores in far-flung areas of Ladakh for the convenience of the general public of the villages where they have to use ponies for commuting and the supply of essential commodities.  He also asked them to work on the enhancement of the storage capacity of existing stores.
Medical and all other departments were instructed to float tendering and complete the procurement of essential medicines, well on time.
He further requested both the DCs that the Power Development Departments should complete the paperwork in a week to put in place a stocking facility of diesel at Nubra and Zanskar for DG sets. The department was also instructed to work on the installation of storage tanks in these places. Cooperative Departments were instructed to plan the procurement of fertilizers well in time and directed that tenders for the same be floated as early as possible.
Deputy Commissioner, Leh, Sachin Kumar was requested to enquire about the completion of the Cooperative Cold Storage facility at Agling as early as possible to make it functional for this winter. He was also told to look into the functionality of the new private cold storages in Leh. Additional Registrar Cooperatives, Ladakh was instructed to work out on the modalities for Cold Storage in Kargil and Zanskar with appropriate capacity.
The Merchant Associations, IOCL, and HPCL also submitted their issues and suggestions.