Divisional Commissioner, Ladakh visits Rong block, Nyoma Sub-Division
Enquires pace of development works, assures redressal of grievances and demands
By
Reach Ladakh Correspondent
Changthang, May 29, 2020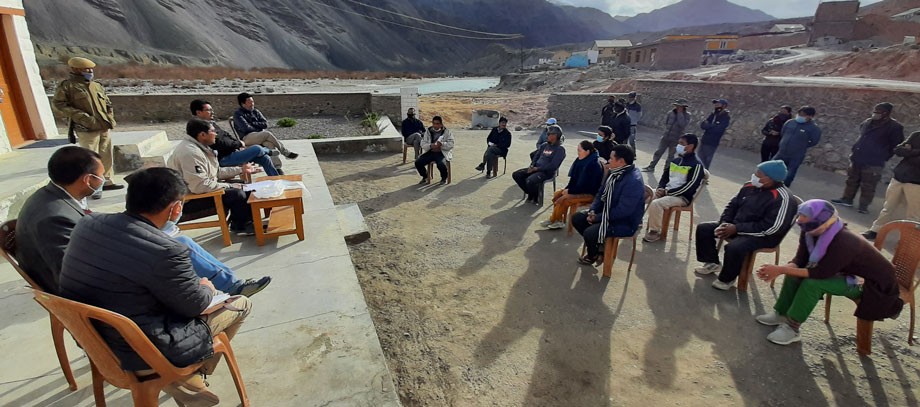 Changthang :
Divisional Commissioner/ Secretary UT Ladakh, Saugat Biswas took stock of the ongoing developmental works in parts of Nyoma Sub-Division covering Rong block on May 29.
He visited Liktsey, Hemya, Kyungyam, Teri Phoo, Teri, Nee, sRiyul, and Chumathang villages and interacted with the people. 
 
Chairman BDC Rong, Jigmet Yountan; Sub Divisional Magistrate, Nyoma, Jigmet Raftan; Assistant Commissioner Development, Leh, Sonam Chosjor; District Panchayat Officer, Leh, Zakir Hussain, and Block Development Officer, Nyoma, Mohd Hassan were also present. 
 
The villagers demanded augmentation of drinking water supply, mobile communication, and up-gradation of Middle and High schools. 
 
Responding to the demands in connection with school education, Saugat Biswas informed that the UT Administration is opening residential schools with state of the art facility in every zone. Thus, ensuring easy access to a school with hostel facility. At Hemya village, Saugat Biswas assured sanctioning of a library for the Panchayat Halqa, Hemya.
 
Villagers of Liktsey and Kyungyam demanded decentralization of the Block headquarter from Chumathang. Divisional Commissioner directed SDM to submit a report in this regard.
He also reviewed the status of the implementation of Jal Jeevan Mission (JJM) to provide safe and adequate piped drinking water to every household. Concerned officers were instructed to complete the pending work for the implementation of the scheme in the Nyoma Sub Division.
Also, he assured to provide satellite phones in far-flung villages of Teri, Nee, and sRiyul to address their phone connectivity issue. Villagers of Nee requested setting up a Medical Aid Centre.
To facilitate connectivity for medical and other emergencies, BDO was asked to develop a spot for civil helipad in every village for medical emergencies and submit a proposal under MGNREGA. Also, he asked the SDM for frequent reviews of the facilities such as food, water, road, electricity and others.
 
To develop the Hot Water Spring in Chumathang as a tourist destination, Saugat Biswas directed BDO to develop a plan and submit it in a week. The villagers requested up-gradation of Chumathang High School to Higher Secondary School, to which Saugat Biswas assured to get the demand examined with the department.
 
Responding to the demand for opening-up of a bank, he assured to take the matter with State Bank of India. Regarding training under the Skill Development programme, the villagers were instructed to submit a proposal of their field of interest and assured of redress.