District Library, Kargil launches collection for civil service exam aspirants
By
Reach Ladakh Correspondent
Kargil, Jun 11, 2020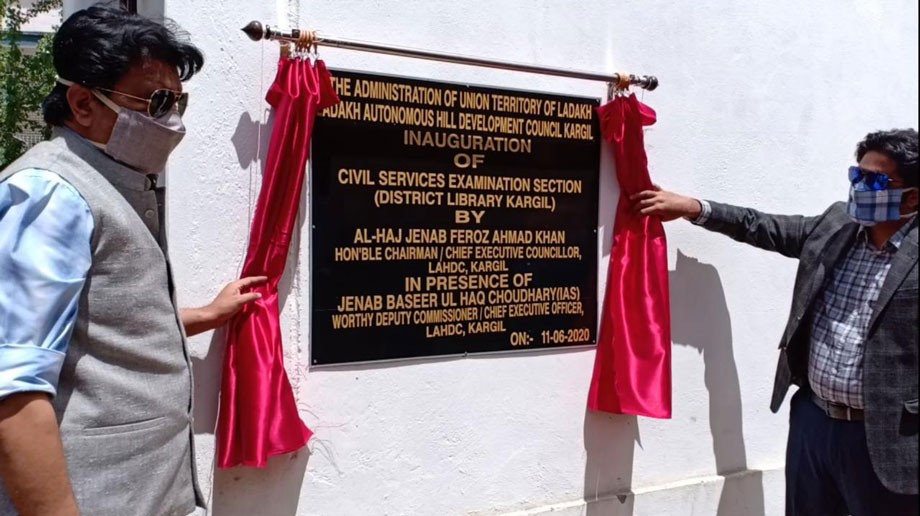 Kargil :
A separate section for Civil Services Examination in District Library, Kargil was inaugurated by Feroz Ahmed Khan, CEC, Hill Council, Kargil in presence of Baseer ul Haq Choudhary, DC, Kargil on June 11.
Feroz Ahmed Khan the CEC appreciated DC Kargil for the initiative in establishing the first-ever Civil Services Examination Section. He said that the centre will give an ideal opportunity to the Civil Services aspirants who have reached back home from different parts of the country due to the COVID-19 lockdown.  
 He also urged Civil Services aspirants and students to take full benefit from the repository of noteworthy books of the Civil Services Section. He said that they can avail facilities after proper registration while students can also take books home and return back after a week's time.
Feroz Ahmed Khan assured to restructure and facelift District Library Kargil for more reading space and infrastructural facilities to the readers.
Baseer ul Haq Choudhary informed that different varieties of books on Civil Services Examinations including General Studies, Geography, History, Economy, Polity, Current Affairs, Mental Aptitude, Reasoning and Logic, subject-specific books in Science, Arts and Commerce besides books for other examinations like IIT, JEE, NEET, Banking Services and other variety of exams have been made available. The collection of books includes the best available in the market and which are used by the topmost Civil Services institutes in the country.
As regards to the procedure of registration, membership, and issuance of books in favour of the aspirants, he informed that students have to follow a simple registration process by furnishing their details to the official email ID of the District Librarian Kargil kargillibrariesandresearch@gmail.com following which a separate Civil Services Section I Card will be issued in their favour. To facilitate registration of aspirants and students, a separate link of District Library will also be created on the official website of District Kargil.
He said that for the issuance of books, students have to authenticate their details from the concerned Lambardar of their respective areas.
Zahoor Ahmad, Librarian, District Library Kargil was asked to bring out a notice inviting interested Civil Services aspirants and to create reading space for maximum 40 readers while ensuring proper social distancing norms and other related protocols like wearing of masks, gloves, hand washing and use of sanitizers.