Discussion on rationalization of Changthang Wildlife Sanctuary held
By
Reach Ladakh Correspondent
Leh, Aug 07, 2022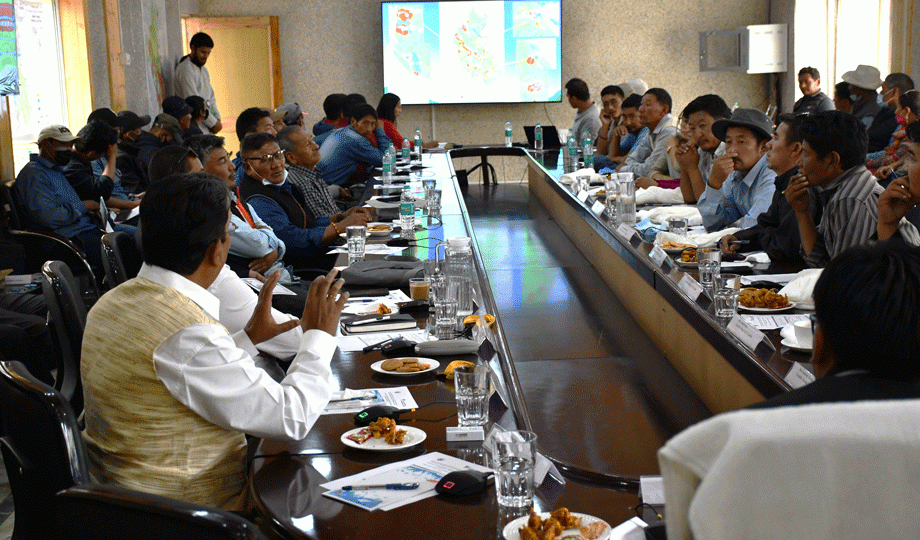 Leh :
The Wildlife Institute of India organised a stakeholder consultation workshop for local institutions and community representatives from the Changthang region on August 5 at the Conference Hall of the Hospitality and Protocol Office, Leh.
The Institute is providing technical support to the Administration of Union Territory of Ladakh in the rationalization of Changthang and Karakoram Wildlife Sanctuaries, by assessing the wildlife values and land tenure in these regions.
The project team from the Institute shared identified High Priority High Conservation Value Areas of social-ecological importance in the Changthang region with local communities and listed agreeable concerns in the rationalization and zonation planning.
Executive Councillor, Tashi Namgyal Yakzee chaired the workshop and encouraged the participants to share their concerns during the workshop, noting the need for development in the villages.
Chief Wildlife Warden, UT Ladakh, Sajad H Mufti emphasized the importance of maintaining a balance between increasing needs for development and conservation of the natural heritage of the region.
Dr. S Sathyakumar, Dr. Bilal Habib, and Dr. Salvador Lyngdoh, Scientists from the Wildlife Institute of India shared the results of work conducted by the researchers' team on the areas important for wildlife conservation, and ecosystem services, and for meeting local communities' sustenance and cultural needs, in Changthang.
The representatives of local communities participated actively in the workshop, shared their concerns relating to a location within a wildlife sanctuary, and spoke about issues about wildlife management and development challenges in the region. They also noted the importance of these villages in the nation's defence due to their strategic location closer to the international border.
The workshop was attended by 49 participants which included councillors from Nyoma, Korzok, Rong, and Chushul, BDCs from Durbuk, Korzok, Nyoma, and Rong, and Sarpanch and gobas from Hanley, Kargyam, Panguk, Parma, Korzok, Koyul, Lukung, Merak, Chushul, Demjok, Durbuk, Mudh, Nyoma, Phobrang, Rockchen, Samadh, Rong, Rongo, Sumdo, and Tangtse villages.