Digital lab inaugurated at Council Model School, Sakti
By
Reach Ladakh Correspondent
SAKTI, Dec 10, 2018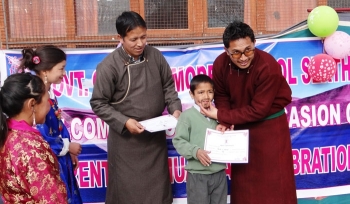 SAKTI :
A digital lab sponsored by 17,000 Ft foundation was inaugurated during the parent's day celebration at Council Model School, Sakti on December 7.
A photo exhibition by Skalzang Dorjey, a student was also displayed.
Reiterating the education being the priority sector for Hill Council, Jamyang Tsering Namgyal said there will be no politics over education.
He said it's the prime duty and responsibility of Hill Council, Leh, politician, and Education Department to provide quality education with good facilities for the children. However, the role of parents and consciousness at an individual level can play a greater role in supporting and improving the education system in the district.
He appreciated Gyal P Wangyal who has been the area councillor for the last 13 years and his contribution in making Sakti Government Middle School a Council Model School by ensuring quality education.
He further added that Late CEC, Dr. Sonam Dawa has played a crucial role in framing a transparent teacher' transfer policy and expressed hope to follow it in action and spirit to address all transfer related issues.
"Teachers of the schools with better performance and results will be given special attention and consideration during their transfers," he informed.
Gyal P. Wangyal informed that with the tireless endeavour of the school management committee, and teachers headed by Headmaster Sonam Gyaltson the enrollment rate of students increased from 5 to 82 in the last couple of years.
He appealed the people of Sakti and Chemday villages to strengthen Higher Secondary School, Sakti in line with Council Model School, Sakti by increasing the enrollment of students and assured every support and facility from Hill Council. Also, requested newly elected three Sarpanches and the Panches to come forward in strengthening the education sector in Sakti area.
Tashi Dolma, Joint Director Education Ladakh, Sonam Gyaltson, Headmaster and Tashi Wangyal, Chairman School Management Committee also spoke on the occasion.