Deputy CM reviews development at meeting with Council in every sector
By
Reach Ladakh Correspondent
LEH, Jun 30, 2016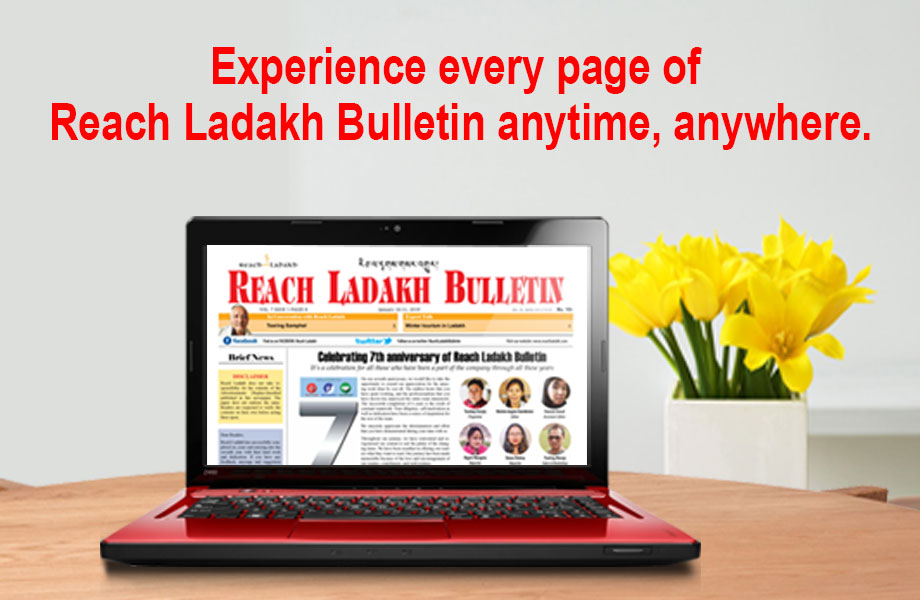 LEH :
A review meeting was chaired by Deputy Chief Minister, Dr. Nirmal Singh with the Executive Councilors and Councilors of LAHDC, Leh headed by CEC, Dr. Sonam Dawa and HOD's headed by Deputy Commissioner Leh Prasanna Ramaswamy G on June 25 at Council Secretariat Leh.
The Minister for Cooperatives & Ladakh Affairs J&K Chhering Dorjey Lakrook was also present at the meeting.
Prasanna Ramaswamy G, DC, Leh gave a power point presentation highlighting major ongoing projects and schemes in different sectors including agriculture, horticulture, sheep husbandry, PDD, PDC, I&FC, Leh Beautification Project and tourism.
Extensive discussion about the scope and issues of agriculture, horticulture and sheep husbandry were carried out in the meeting. The sectors have an immense potential to boost the economy of Ladakh if cold storage, processing, marketing, farm mechanization, commercial greenhouses and packaging facilities are provided to the farmers and entrepreneurs through different schemes / subsidies.
The annual income of the farmers of Sham area which was around ₹ 8 crore from fruits is expected to fall down by ₹ 7 to 8 lakh this year because of the outbreak of brown-tail moth insect in Sham area. He further added that the Revenue department is instructed for the assessment of crop damage to claim the compensation.
Talking about the cultivation and value addition of seabuckthorn and apricot at large scale, Minister Co-operative, and Ladakh Affairs informed that Leh and Kargil district are brought under ICDP project under which both the district can avail National Cooperative Development Corporation (NCDC) loans. He added that a DPR is already in process under this scheme.
During the review of the schemes of Sheep Husbandry including Pashmina Promotion Programme (P-3) and Pashmina Wool Development Scheme designed for Changthang region, Dr. Dawa and the Minister informed that a new Italian Pashmina Deharing Plant worth ₹ 11 crores will be procured shortly.
Responding to the issues and demands raised by CEC Dr. Dawa and EC Dorjey Mutup including approval of several major projects already submitted at State Govt. and filling up of different posts specially doctors and JEs, Dr. Nirmal Singh instructed Council to develop a constant follow-up system and assured that he will intervene at different levels whenever required at state govt. sanction projects.
He also directed DC, Leh to submit a comprehensive report of different key sectors departmental wise highlighting their prospects and issues to his office. He assured to take up all the issues with the concerned ministries.
While reviewing the PDD and PDC departments, the minister was told that out of total 113 villages of Leh, 11 villages are un-electrified and at present 45 villages are being supplied electricity through D.G Sets. After a thematic discussion about the overall power scenario of the district, it was found that Leh district has surplus power in summer months but due to lack of transmission lines, the surplus is left unutilized.
Talking about Deendayal Upadhyaya Gram Jyoti Yojana (DDUGJY) designed for rural areas and Integrated Power Development Scheme ( IPDS) for town area, Dy CM said that to address minor problems in power sector, state govt. has sanctioned ₹ one crore each for every assembly constituency as per which Leh district has ₹ 2 crore.
On the request of councilors, Dr. Nirmal also assured to increase the buffer stock of transformer for Leh district. To resolve the issues of PDD and PDC, minister directed DC, Leh to convene a meeting with both the agencies separately and report him accordingly.
Meanwhile, CEC Dr. Dawa also directed councilors to submit the list of un-electrified villages with a total number of household in their respective constituency within a week to his office.
Taking serious note of the slow progress in Leh Beautification works, Dy. CM and Minister Dorjey directed SE PWD to speed up the works by engaging extra men and machine. He also instructed to take strict action against contractors who fails to obey contract rules.
Dy. CM also requested all the councilor of LAHDC, Leh to spread awareness about the centrally sponsored schemes including Jann Dhan Yojna and insurance schemes in their respective constituencies and urged them to benefit every household with at least one centrally sponsored scheme.