Demchok gets first ever household water tap connection under Jal Jeevan Mission
By
Reach Ladakh Correspondent
Changthang, Jul 28, 2022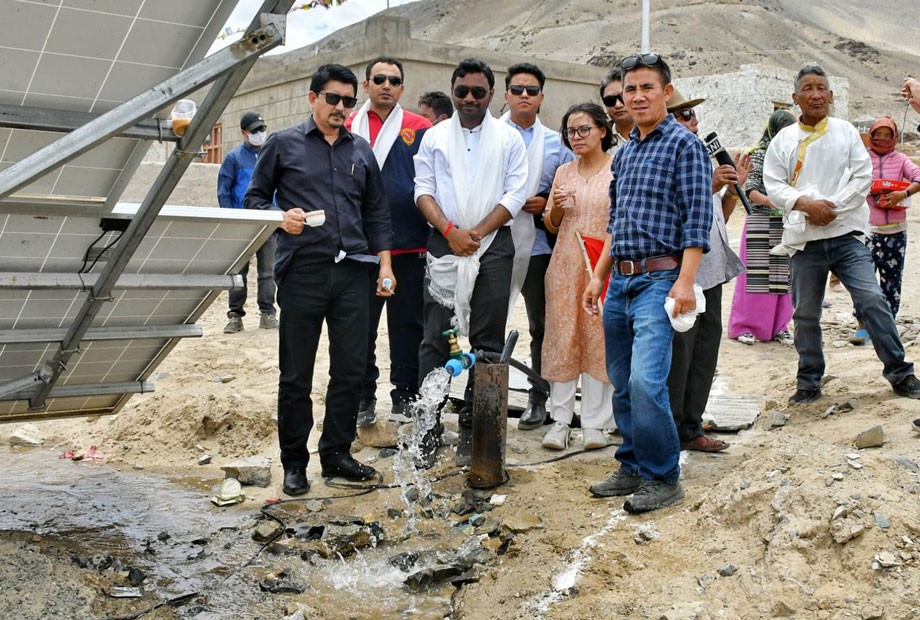 Changthang :
Demchok, one of the eastern-most villages located adjacent to the LAC got Functional Household Tap Connections for the first time under Jal Jeevan Mission. A ceremonial event was organised by the Department of Public Health and Engineering (PHE) Leh on July 27.
Chairman/CEC, LAHDC Leh, Adv. Tashi Gyalson along with Secretary, Power Ladakh, Ravinder Kumar; DC Leh, Shrikant Balasaheb Suse, and GOC Uniform Force, Major General V Hariharan inaugurated the FHTCs and handed them over to the residents of Demchok. 
CEC Gyalson congratulated the people of Demchok for getting household water tap connections under JJM and appreciated the team of JJM Leh and the concerned contractors for completing the project within the stipulated timeframe. He also expressed his gratitude to the Indian Army for their cooperation with the administration during the implementation of the project at Demchok. 
He emphasized that fast-track developments in border areas of Ladakh in recent times are a sign of good governance towards strengthening border regions and ensuring all the basic facilities to the residents which have been lacking. He assured that all the other grievances put before him would be addressed at the earliest possible. 
Secretary Ravinder Kumar also congratulated the people of Demchok and informed them that the Administration is working collectively with the Hill Council to strengthen border regions and its people by ensuring all possible facilities. 
Expressing happiness over the successful implementation of the Jal Jeevan Mission in Demchok, DC Shrikant stated that he took special responsibilities to ensure the timely implementation of this project in the extreme border villages of Leh district. 
Councillor Nyoma and BDC Nyoma on behalf of the people of Demchok expressed their gratitude to all the dignitaries for their support in successfully executing the Jal Jeevan Mission project and further congratulated the people of Demchok village.