Delegation of LBA, LGA meets L-G
Requests to conduct inquiry into recent Delhi Public School incident
By
Reach Ladakh Correspondent
Leh, Apr 24, 2023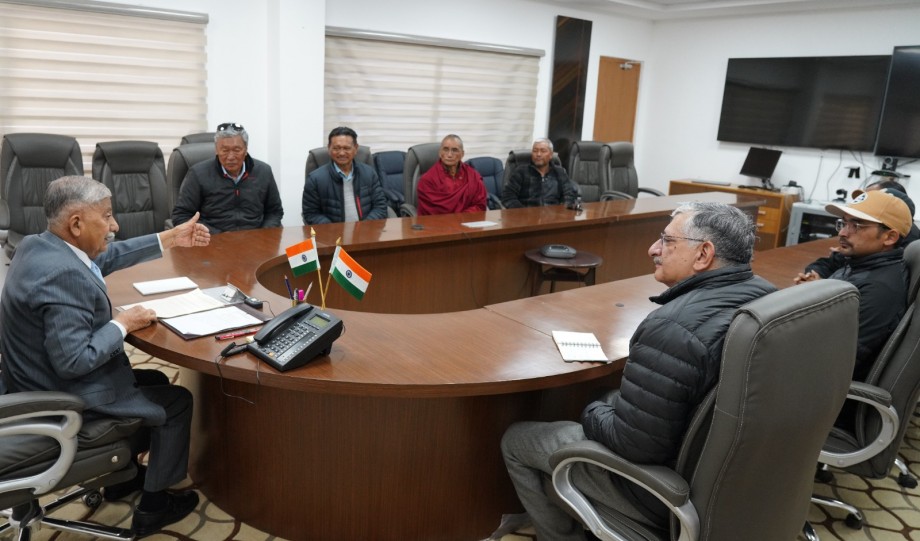 Leh :
A delegation comprising members from Ladakh Buddhist Association and All Ladakh Gonpa Association led by Vice-President, LBA, Chhering Dorjey Lakrook met Lieutenant Governor of Ladakh, Brigadier (Dr) BD Mishra (Retd), at Raj Niwas on April 23.
Chhering Dorjey Lakrook informed LG about the recent incident at Delhi Public School in which the Director of the School, Neerja Biswas allegedly made some comments about His Holiness the Dalai Lama, the Ladakhi language and the Sangha community, the teaching of Bhoti subject in schools along with the harassment faced by the staff and students of the school by her.  
He requested LG's intervention to conduct an inquiry into the matter and also the need to investigate if the DPS branch at Leh is an authentic and authorized branch of Delhi Public School along with its functioning and financial management. He also emphasized the need to secure the future of the students studying at DPS.
L-G termed the incident as unfortunate and stated that all citizens of India are equal as per the Indian Constitution. He assured that all the departmental secretaries will meet citizens of Ladakh to look into their matter. He stated that students studying at DPS should be encouraged to stay connected with their roots, take pride in their culture and heritage, and not be discouraged by such incidents.
Terming the upcoming Youth 20 Pre-Summit to be held in Leh from April 26 to 28 under the aegis of G20 India Summit as a 'programme of the whole people of Ladakh,' LG sought cooperation and participation from the people of Ladakh to make the event successful. He also assured to conduct an inquiry into the matter.