DC Kargil assesses Jal Jeevan Mission work in Drass
By
Reach Ladakh Correspondent
DRASS, Jul 27, 2022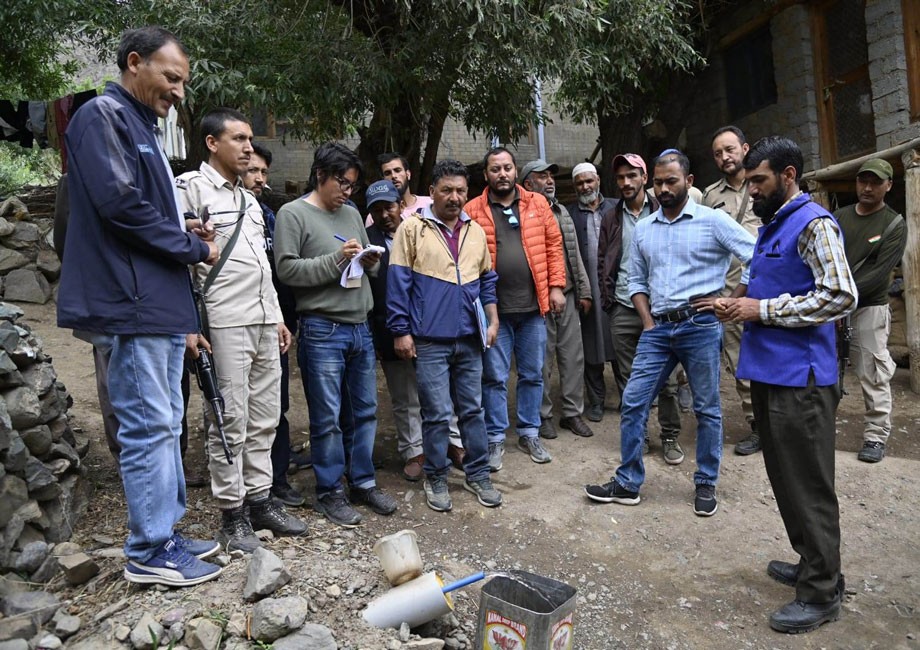 DRASS :
Deputy Commissioner and CEO, LAHDC, Kargil, Santosh Sukhadeve took a detailed assessment of Jal Jeevan Mission (JJM) works undergoing in different villages of Drass on July 26.
DC, Kargil visited the villages of Matayen, Prandass, Ol-Byaras, Mushkoo, Holiyal, Murad Bagh, and Bhimbhat.
At Matayen, DC Kargil took a door-to-door assessment of the establishment of FHTC connections under the JJM and also visited SR Tank having a carrying capacity of 15,000 gallons of water at a single time and caters to more than 80 households in the village.
Further, DC Santosh was informed that almost all households have been connected with a water supply and will be made functional at the earliest.
He also visited Prandass village where he took a detailed assessment of SR Tanks and water pipes across the villages. He was informed that from the water supply, 175 households will get benefitted and the scheme has been successfully implemented in the village.
The Deputy Commissioner assured that measures will be taken to keep the scheme functional throughout winters in the whole subdivision.
DC Santosh also visited other villages of Drass like Ol-Byaras, Mushkoo, Holiyal, Murad Bagh, and Bhimbhat, where he interacted with PRI members and villagers. 
He took a detailed assessment of the functioning of pipes, SR Tanks and directed to make sure to provide water at the doorsteps of every household.
He also directed to provide Har Ghar Jal certification to the villages where 100 percent FHTCs have been completed and directed to speed up the works under JJM to complete them before this year's Independence Day.
The DC also applauded employees of PHE and other agencies for the smooth execution of JJM works in the subdivision and expected to reflect the same works in other areas of Kargil.
Earlier, the DC Kargil took a detailed meeting with BDC Chairpersons of Drass and Bhimbhat during which he was informed about the status of execution of JJM works. DC Santosh extended gratitude for their support and efforts in the execution of works and expected similar support in the future as well.
 He also interacted with villagers and PRI members and addressed their grievances related to link roads, vacancy in schools, and other development works. DC Santosh assured necessary redressal of the grievances at the earliest.
Executive Engineer PHE Mohammad Hassan, BDC Chairperson Drass Noor Mohammad, BDO Drass, Incharge SDM Drass, Assistant Executive Engineer PHE, representatives of the third party besides other concerned officers accompanied the DC Kargil during the tour.