Councillor Chushul & Project Founder of Sustainable Ladakh Initiative meets L-G
Submits proposal for establishment of Yak village, incorporation of modern technological interventions to ease shepherding
By
Reach Ladakh Correspondent
Leh, May 08, 2023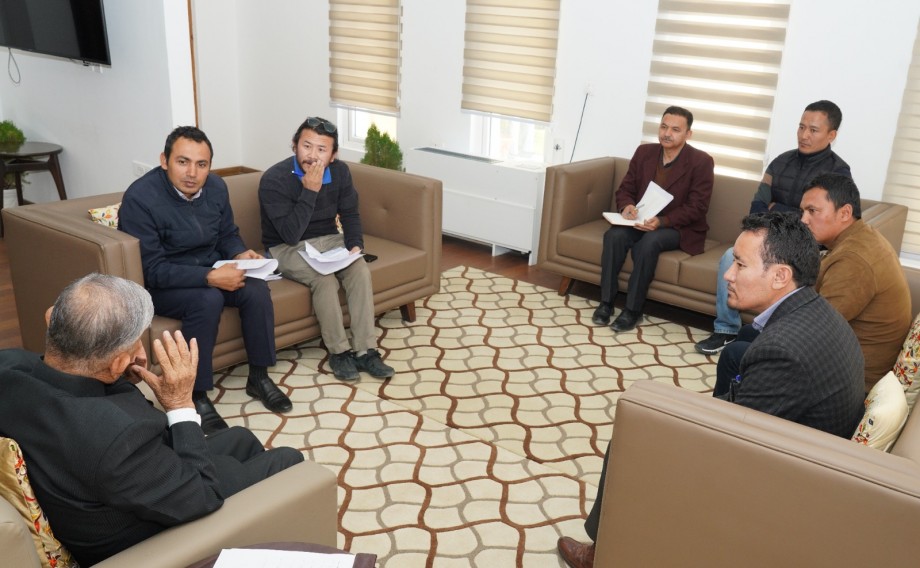 Leh :
A delegation from Lalok Changthang comprising Councillor Chushul constituency, Konchok Stanzin, and Project Founder, Sustainable Ladakh Initiative, Chamba Tsetan, met Lieutenant Governor of Ladakh, Brigadier (Dr) BD Mishra (Retd), at Raj Niwas on May 6.
Secretary, Animal Husbandry, Ravinder Kumar was also present at the meeting.
Chamba Tsetan submitted the project proposal for the establishment of Yak Village and the incorporation of modern technological interventions such as Drone shepherding with the traditional practices for 'ease of shepherding' in Ladakh. He informed LG about the traditional shepherding techniques still being used by the shepherds and the reluctance of their children in adopting shepherding/livestock rearing as a source of livelihood. He further informed that the people of Kargyam Chibra have almost disowned the tradition of rearing livestock and adopted the rearing of yaks due to convenience.
Chamba also informed LG that the data collection and AI-based automation will help in the all-around development of the profession of shepherding. 
The pilot project will not only introduce new technology for shepherding but also help in assessing other interventions needed during the winter period, especially fodder for the livestock, he said. He also informed that their overall focus is on rearing yak along with pashmina goats in the Changthang area. 
Chamba said that the introduction of modern technological interventions, which will ease the practice of shepherding, will encourage the youth from Changthang to carry forward this tradition of shepherding.
Konchok Stanzin requested for providing exposure tours to shepherds from Changthang to help them familiarize themselves with new technologies adopted by shepherds from other countries. He also raised the need for the maintenance of traditional water mills in Changthang and Durbuk.
Ravinder Kumar stated that the adoption of modern technological interventions would enable the acceptance of the occupation of shepherding among the youth from the Changthang area.
LG emphasized the need to take necessary steps on all fronts for the promotion of pashmina along with taking necessary measures to reduce the mortality rate of kids of pashmina goats to increase their population. He also highlighted the need to provide zero carbon-emission shelters/corrals along with ensuring fodder for the livestock and their protection against attack from predators. He informed about the adoption of Private Public Partnership (PPP) for the promotion of pashmina in Ladakh.  
LG instructed Chamba to make necessary changes in the project proposal and incorporate the development of both the yak and pashmina goats of Ladakh.
Chief Animal Husbandry Officer, Dr. Mohammad Iqbal, and District Sheep Husbandry Officer, Dr. Tundup Namgail were also present at the meeting.