Commissioner Secretary, Ladakh meets CEC Kargil
Discuss various Health issues and developmental activities in different sectors
By
Reach Ladakh Correspondent
Kargil, Aug 19, 2020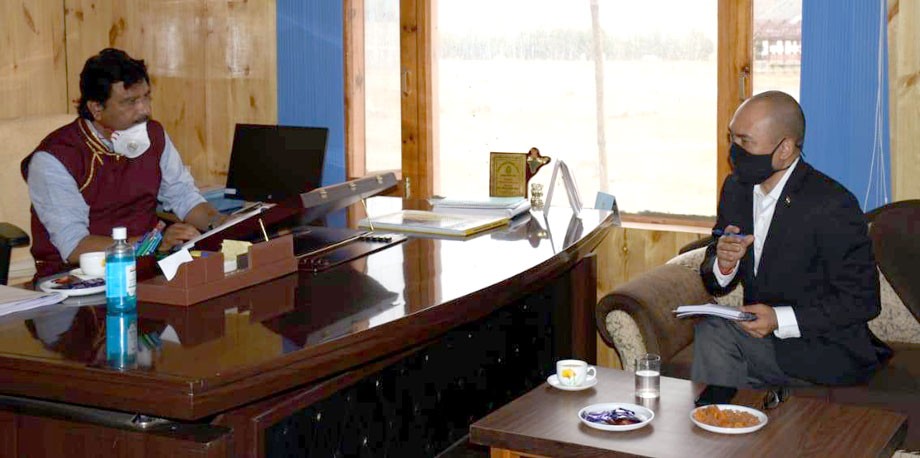 Kargil :
Commissioner Secretary, Health Rigzin Samphel discussed facilities for patient care in wake of COVID-19 pandemic and various developmental activities with Feroz Ahmad Khan, CEC Kargil on August 19.
 
Executive Councillor, Health, Muhammad Ali Chandan; Chief Medical Officer, Kargil, Dr. Munawar Hussain Wazir; Assistant Commissioner Revenue, Kargil, Shabir Hussain besides other concerned officers were also present in the meeting.
 
Discussion on matters related to preparations to deal with COVID-19 situation at the COVID-19 Dedicated Hospital Kargil like the establishment of new oxygen back-up plant, procurement of DG Set for power back-up, procurement of more mega and medium Oxygen Cylinders, CT Scans at CHCs, enhancement of the carrying capacity of the COVID-19 Hospital to 120 beds and establishment of fully automatic COVID-19 Laboratory in Kargil, oxygen concentrators at District Hospital Kargil and the need for giving specialized training to the ICU Staff of District Hospital Kargil was carried out.
 
Also, enhancement of manpower at the COVID-19 Hospital as well as the District Hospital Kargil including 20 Nurses for COVID-19 Hospital, 10 Nurses at District Hospital Kargil besides Sweepers/ NOs at COVID-19 Hospital were discussed.
 
Rigzin Samphel asked CMO Kargil to engage the required staff and to submit a detailed proposal for procuring CT Scan machines.
 
He informed Feroz Ahmed Khan that 600 numbers of additional oxygen cylinders would be procured in the next two weeks to supplement the current oxygen stock. One oxygen plant is already functioning at the dedicated COVID-19 Hospital Kargil and another one is under construction. He further added that for meeting exigencies, the services of two private oxygen plants available in Leh could be availed in addition to the existing government facilities. The establishment of fully automatic COVID-19 Laboratory in Kargil district is in its final stages and would be operational soon.
 
 Rigzin Samphel further stressed the operationalization of the ICU of DHK on a 24x7 basis and instruction to this effect was passed to the CMO Kargil on spot. 
 
Feroz Ahmed inquired about the sanctioning of adequate funds for purchase and stocking of equipment and medicines in addition to the normal supply in wake of COVID-19 for the winter months. Also, he raised the issue of release of salaries in favor of NCD/IDSP staff and urged the Commissioner Secretary Health to take appropriate steps in the matter. 
 
Commissioner Secretary assured the CEC that these issues would be resolved on a priority basis. 
 
Various other issues including approval for internal roads of Kargil town, the release of work done liabilities under CRF, compensation for hoteliers and guest house owners, filling up of the vacant posts of officers and officials, review of the recently published Transfer Policy and other related matters were also discussed.
 
Rigzin Samphel informed that internal roads of Kargil town stands approved while the issue of work done liabilities under CRF is being taken up with the authorities in the UT J&K and the Central Government. 
 
He assured that all other issues are being currently under active consideration of the UT administration.