CEC Wangyal visits Sakti constituency
By
Reach Ladakh Correspondent
Sakti, Jun 23, 2020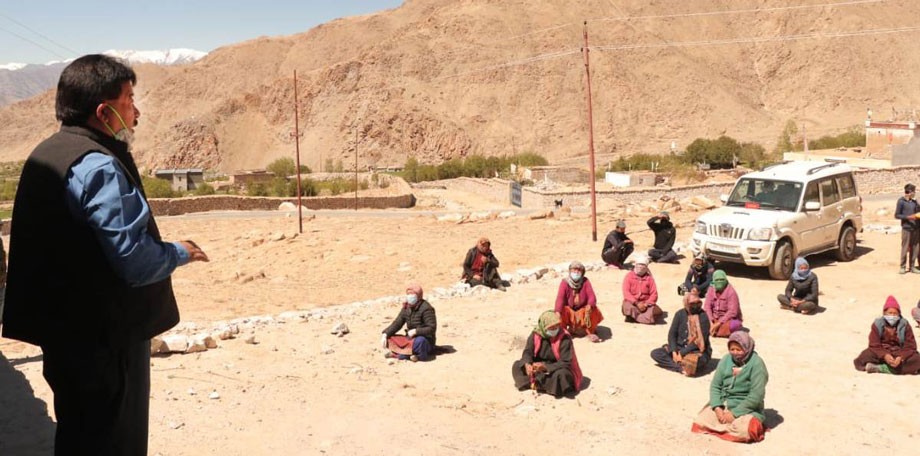 Sakti :
Gyal P Wangyal, CEC, Hill Council visited Sakti constituency and reviewed the ongoing developmental projects on June 23.
 
 He visited Taknak, Hamil, Sharnos, Kangkar, Tagar, Tukchu, Nala, Pue, Chemday Monastery, Yoknos, and Kharu villages of Sakti constituency. 
 
Gyal P Wangyal said that the main objective of his visit is to know public grievances, review the ongoing developmental activities, and to spread the message of COVID-19 precautionary measures to contain the deadly novel Coronavirus in the Chem-Sak belt.
 
Sarpanch and village representatives submitted a copy of memorandum which includes strengthening of the mobile network to give good access of students for online studies amid COVID19 pandemic, connect Youlsa link road to the main road, release fund of 2016-17 liabilities under MGNREGA, and other demand including up-gradation of MAC, complete house to house survey under Jal Jeevan Mission, replacement of wooden electric poles, etc.
 
At Tagar, Sarpanch and Nambardar demanded the installation of a mobile tower to improve connectivity where students don't have access to the internet for online studies, installation of transformers, ice hockey stadium, and early completion of pyong ling-doo circular road.
 
Regarding mobile towers, Gyal P Wangyal assured to start all paperwork and to complete all the ongoing developmental projects at earliest. He stated that the link road from the market to Lardong will be completed in phase manner and the remaining circular road fund will be kept under SDP. He further requested representatives to identify land for the Ice hockey stadium and Tagar yokma community hall.
 
Also, he requested people to follow the precautionary measure to contain novel coronavirus.
 
At Hamil, Sarpanch Sakti and village Nambardar requested the construction of link road from Zarok to Dyang Labrang, Pharka yokma to Hamil, motorable bridge at Tiza, culvert at various location, construction of a new road towards Tsampuk, construction of new separate water tank, installation of hand-pump at Panchayat Ghar & Community hall and replace of a wooden electric pole.
 
Gyal P Wangyal assured to fulfill all their important demands at the earliest in a phased manner. Concerned officers and engineers were requested to immediately initiate necessary measures to fulfill people's demand
 
At Peu, Tukchu, Nala and Gamath and Yoknos mohalla, Sarpanch and Nambardar requested replacement of wooden electric pole, regular supply of drinking water, repair Nala Community hall, blacktopping of Nala-Tukchu road, repair of Sakti-Agyam road, early completion of Patang-Situk road, construction of community hall at Gamath, shifting of the transformer, construction of community hall at Yoknos, shifting of electric HT line, ground leveling, set up of PHC health centre, release funds of 2016-17 liabilities under MGNREGA and construction of culvert at a various location among others.
 
At Chemday Gonpa, monks headed by Monastery manager requested funds for new construction of public gathering hall and construction of footpath towards the monastery, repairing of Chemdey Gonpa road and widening of parking place.
 
Talking about the water lifting facility already installed at Gonpa, venerable monks requested to replace lifting motor and also demand water supply connections to 'Tashaks' to which CEC gave directions for few central points for easy access to water for the monks. He further gave on-spot directions to the concerned Executive Engineer to look in the matter seriously and assured of redress of the issues in phase manner.
 
Nambardar Kharu expressed thanks to the CEC and his team for visiting and hearing the grievances of the people of his constituency. Sarpanch and village further demanded construction of community hall at Kharu market, flood protection bund at Sakti nallah from Sakti to Kharu; chain-link fencing for cattle pastureland.