CEC Kargil reviews status of University of Ladakh
By
Reach Ladakh Correspondent
Kargil, Sep 14, 2019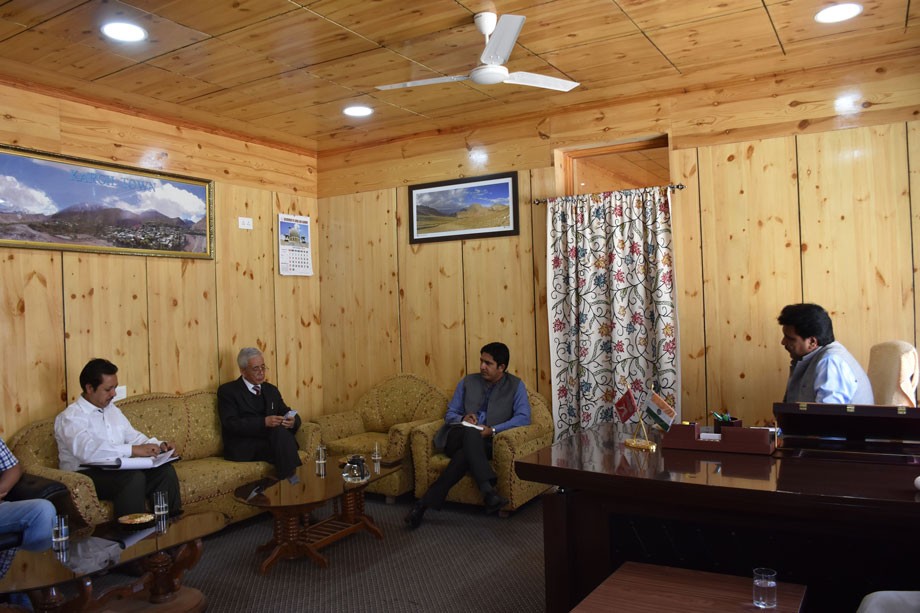 Kargil :
To review the present functioning status of the University of Ladakh, Feroz Ahmad Khan, Chairman and Chief Executive Councilor, LAHDC, Kargil chaired a review meeting on September 13.
 
Issues related to present office set up of the University at Purig Guest House Kargil, identification of land near Kurbathang plateau and alternate space for the establishment of University campus in Kargil district were discussed.
 
C Phuntsog, Vice-Chancellor, Cluster University of Ladakh said that the land for the university campus in Leh has already been decided near Degree College Leh whereas, it is still not decided in Kargil.
 
Feroz Ahmad and Baseer-ul-Haq Choudhary, Deputy Commissioner and CEO, LAHDC informed that identification of land at Kurbathang plateau will be decided only after the finalization of land by Airport Authority of India (AAI) for the expansion of Kargil Airport at Kurbathang.
 
It was informed that Kargil and Leh campus will have three Post Graduate and three integrated courses in different subjects starting from February next year while the semester will conduct by July-August of the same year.
 
C. Phuntsog further informed that the statue and regulations for the University are already drafted and will get approved by the University Council in due course of time. 
 
As the 14th Finance Commission team will be visiting Leh and Kargil in near future, he suggested CEC and DC Kargil to project special package for Kargil district to meet the liabilities and completion of different developmental works such as health services, education and other sectors.
 
Framing proposal of special package for development of colleges in Kargil under the new Finance Commission, provision of funds for coaching for competitive exams under Tribal Sub Plan, establishment of coaching institute for different national level exams within the University of Ladakh and many other related issues were also discussed.