CEC, Kargil, inaugurates super bazaar, 400 mt fertilizer godown in Sankoo 
By
Reach Ladakh Correspondent
Sankoo, Nov 19, 2022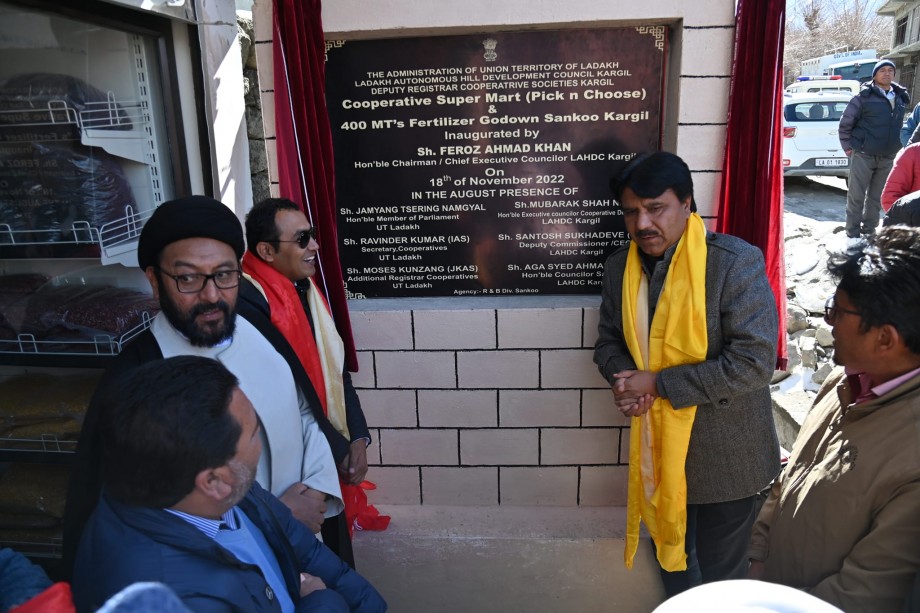 Sankoo :
Chairman/CEC, LAHDC, Kargil, Feroz Ahmed Khan in presence of Executive Councilor, Cooperatives, Mubarak Shah Naqvi and Secretary, Cooperatives Ravinder Kumar inaugurated Super Bazaar Cooperatives "Pick and Choose" and 400 metre Fertilizer Godown at Sankoo market on November 18.
CEC, LAHDC, Kargil Feroz Ahmed Khan congratulated the Cooperative Societies Department for successfully rendering their services to the people of Sankoo. He said with the opening of this store, the availability of goods will be eased out.
Khan said that in the modern age, people prefer to buy goods under one roof and this store will fulfill that. He also said that Super Mart's location is accessible to people in the area.
While talking about the inauguration of Fertilizer Godown, CEC congratulated farmers of Sankoo adding that now they don't have to move to Kargil for fertilizers.
Executive Councilor, Cooperatives, Mubarak Shah Naqvi said the members of cooperative societies should come forward to support the revival of the cooperative societies. He said that cooperative societies are for poor people. 
Secretary, Ravinder Kumar said that after the formation of UT Ladakh funds for the department have been improved. He said the Cooperative Department has much importance in Ladakh as it is a remote area and the department is rendering its services to the people.
Deputy Registrar, Cooperatives, Dr. Zakir Hussain informed that the Super Bazar has been upgraded to 'pick and choose 'with an expenditure of 1 crore under the SDP plan. He said all necessary daily usage items are available at discount prices on MRP with quality products.
While 400 mt Fertilizer Godown with an expenditure of 1 crore and 41 lakh under District Capex has been constructed for the people of the area. He further apprised that similar stores are under the plan at Zanskar, Drass, and other sub-divisions of district Kargil.