CEC, Hill Council, Leh visits Kungyam constituency
By
Reach Ladakh Correspondent
Leh, Jul 29, 2020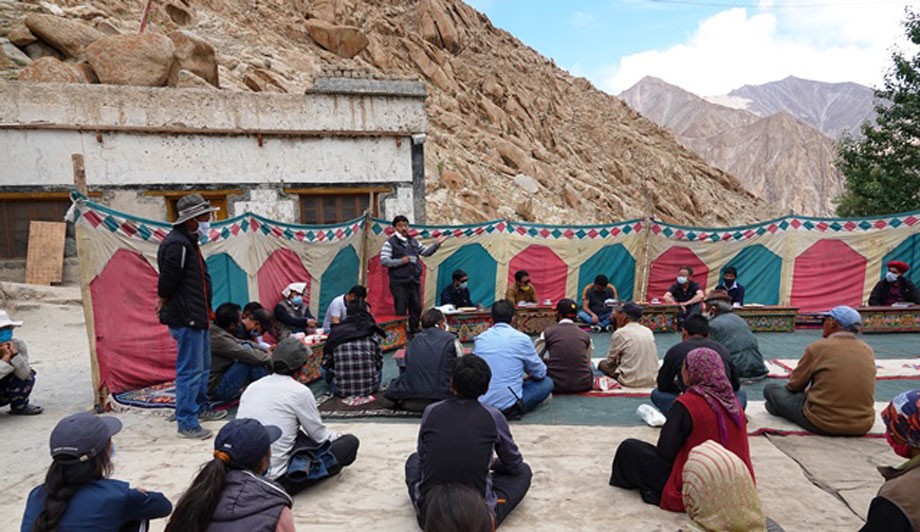 Leh :
Gyal P Wangyal, CEC, Hill Council, Leh conducted a two-day tour to Rong block and visited Liktsey, Tukla, Tarchit, Himya, Tiri, Kumdok, Kerey, Chumanthang, Kotsa, Maye, Skidmang, Kesar, Nee and Kungyam villages on July 27 and 28.
Executive Councillors, Phuntsog Stanzin and Konchok Stanzin, BDC Rong, Jigment Yontan, and sub-divisional level officers and engineers headed by ACD Leh Sonam Chosjor and SDM Nyoma Jigmet Raftan were present.
Remembering Former CEC also Councillor Kungyam, Late Dorjey Motup, Gyal P Wangyal said that Late Dorjey Motup was one of the tallest leaders of the Changthang region whose vision for the overall development of Changthang region particularly Rong block can't be forgotten. He said that the developmental works carried out under the leadership of Late Dorjey Mutup especially road connectivity, mobile connectivity, and other basic facilities are visible in almost all the villages of Rong block. 
Gyal P Wangyal assured people that the absence of Councilor in Kungyam Constituency will not affect developmental activities in the Rong block. He said that EC Education Konchok Stanzin is looking after the Kungyam Constituency in close coordination with BDC Rong. 
Responding to the demand for installation of mobile towers in most of the villages, he said that out of 24 towers sanctioned for Leh district under USOF recently, three towers are sanctioned at Kungyam, Tukla and Skidmang villages respectively which will be installed in coming months.   
Konchok Stanzin said that Hill Council, Leh has given a due share of funds for Rong Block in Capex and SDP budget including ₹ 1:00 crore under CD Normal under Rural Dev. Sector. He said that keeping in mind the good attendance of local labourers engaged with Army and BRO in Rong region, a Labour awareness/registration camp will be organised in the Rong block in coming days so that labour of Rong region could also avail the insurance, incentives and scholarship benefits for their children through Labour department, Leh. 
Phuntsog Stanzin aware farmers about the aim and objectives of the Mission Organic Development Initiative of Ladakh initiated by the LAHDC, Leh. He appealed farmers of the Rong region to avail of all the benefits including large commercial polycarbonate greenhouses. 
Also, he urged farmers to convert their command area land into agricultural land and assured them of giving assistance through Soil Conservation department.