CEC, DC Kargil discuss Muharram-ul-Haram arrangements with religious heads, district officers
By
Reach Ladakh Correspondent
Kargil, Aug 19, 2020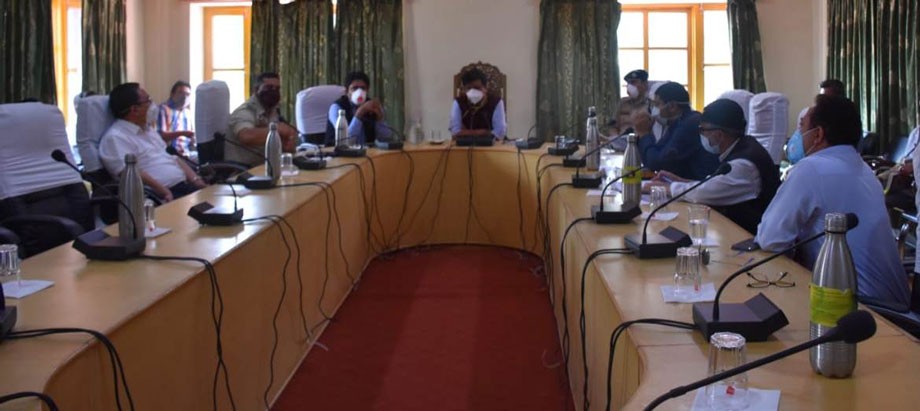 Kargil :
Feroz Ahmed Khan, CEC, Hill Council, Kargil discussed various arrangements for the observance of Muharram-ul- Haram with Deputy Commissioner, Baseer ul Haq Choudhary, religious heads, and district officers on August 19 at Tourist Facilitation Center, Kargil.
 
Necessary measures and required arrangements in connection with the holding of mourning congregations and processions during Muharram amidst strict observance of SOPs and other norms given the present COVID-19 pandemic situation was discussed.
 
Special arrangements will be made this year because of the emerging situation due to the COVID-19 pandemic. Anjuman e Jamiat ul Ulema Isna Ashariya, Kargil (AJUIAK), and Imam Khomeini Memorial Trust (IKMT) in consultation with the District Administration will frame SOPs for the observance of Muharram in the district.         
 
Feroz Ahmed Khan made it clear that there is no restriction from the Administration for the observance of Muharram in the district. However, considering the current situation of the COVID-19 pandemic, the observance of Muharram will be inevitably different from previous years.
 
He said that Muharram congregations and processions will be held at both AJUIAK and IKMT Kargil with a limited number of mourners amidst strict observance of all SOPs including proper social distancing, usage of masks and sanitizers, sanitization of the religious place after the congregations are over and other necessary measures. 
 
Considering the COVID-19 pandemic scare, persons below 10 years and above 60 years will not be permitted in the congregation. Feroz Ahmed informed that the mourning congregations will be of a limited time slot, at the maximum one and a half hours and the number of mourners will be between 50 and 100. SOPs for the first 8 days will be issued shortly while as separate SOPs will be issued for 9th and 10th Muharram congregations and processions for which yet another meeting will be convened.
 
Only 1 procession each from AJUIAK and IKMT Kargil will be taken out and the number of mourners therein will be decided in due course of time.
 
CEC said that the matter concerning de-containment of containment zones is being considered by the DDMA Kargil, however, he stressed the usage of masks strictly in markets and Muharram congregations for which appeal has also been made to the religious organizations. Those not wearing masks and not following the SOPs will be strictly dealt with under the law.
 
Representatives of religious organizations assured all-out support and cooperation.
 
Both the CEC and DC stressed the officers concerned to make arrangements concerning uninterrupted power and water supply, medicare facilities, sanitation, and other related arrangements.
 
The administration will nominate a Nodal Officer to coordinate with the religious organizations and different departments to ensure necessary arrangements for the smooth conduct of Muharram congregations.