'Bijli Mahotsav' held at Mudh village in Changthang region
By
Reach Ladakh Correspondent
Changthang, Jul 28, 2022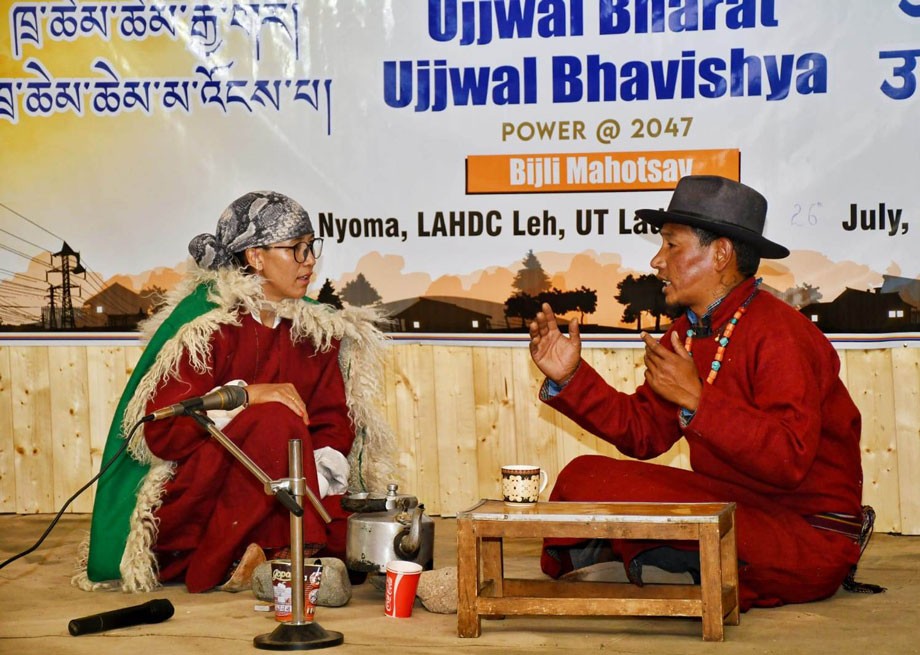 Changthang :
Bijli Mahotsav under the banner of Ujjwal Bharat Ujjwal Bhavishya-Power @2047 celebration was carried out at Mudh village of Nyoma sub-division in the Changthang region on July 27.
Chief Guest of the occasion, Chairman/CEC, Adv. Tashi Gyalson highlighted the importance of celebrating the 75 glorious years of India's independence and stated that the confidence and morale of the people residing in the border region have been boosted by the fast-track development that has been taking place in all sectors, post-formation of Ladakh as a Union Territory. 
He stated that villages like Mudh, Nyoma, and Nidar have been connected to the power grid and the remaining villages in Changthang and the Nubra region will also get connected to a 24x7 power supply through grid connection soon. He further appreciated the Union government led by PM Narendra Modi for significant improvements in the power sector of Ladakh over the last few years.
Secretary Power Ladakh, Ravinder Kumar emphasized that the UT Administration and the Hill Council are working hard to achieve positive developments in all sectors. He added that around 25 locations have been electrified with grid connection in the last two years and replacement of solar power batteries has also been taking place frequently. 
He also informed that around 400 locations across the nation are observing 'Bijli Mahotsav' by celebrating achievements 
DC Leh, Shrikant Balasaheb Suse congratulated the people of Mudh and its adjacent villages for getting connected with the power grid. He also requested Secretary Power and the concerned officials of PDD for their assistance required in addressing a few shortcomings in the Nyoma belt which has been recently connected with the power grid. 
A cultural programme and skit on the future of the power sector in Ladakh were showcased by the villagers and school students.
Councillor Nyoma Ishey Spalzang and BDC Chairperson Nyoma, Urgan Chodon were the guests of honors. Chief Engineer PDD Ladakh, SDM Nyoma, Executive Engineer PDD Leh, Sr. JM Power Grid Ladakh, village representatives, children, and people of all ages participated in the event.