Baseer ul Haq Choudhary, DC Kargil tours Parkachik area
Takes stock of developmental work and snow clearance work on Kargil Zanskar road
By
Reach Ladakh Correspondent
Kargil, Feb 13, 2020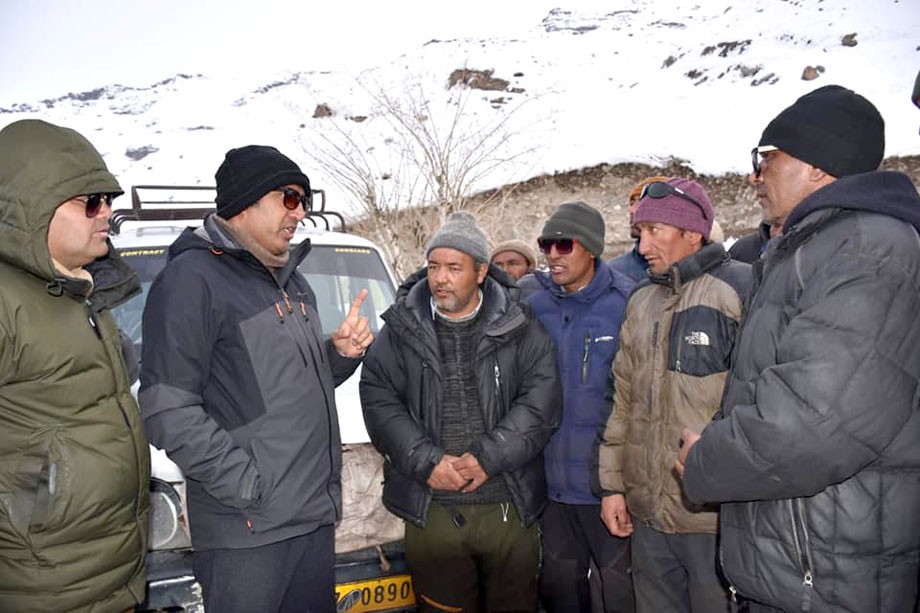 Kargil :
Baseer ul Haq Choudhary, DC Kargil took first-hand appraisal of the developmental needs, problems, demands and grievances of the people of Parkachik area on February 12.
Several public delegations put forth their issues and demand including augmentation of water and power supply during the winter season, repair of solar power plants, repair, and renovation of irrigation khuls and macadamization of link roads.
Baseer ul Haq Choudhary took sector wise brief from the officers on the issues related to water and power supply, snow clearance works, functioning of Anganwadi centres, schools, roads, health centres, livestock, and ration supply.  
Addressing the people he said that the administration is fully conscious of the problems and issues being faced by the people residing in rural and far off areas. He assured to redress all their genuine demands and concerns in a phased manner. Concerned officers were directed to take necessary measures for early grievance redressal.
He further stressed on the need to establish a mechanism of effective and efficient coordination between the administration and the people. District officers were asked to be responsive to the needs and issues projected by the people and to ensure that these are resolved in a time-bound manner. Also, he asked them to take effective as well as efficient advanced and timely measures to kick start the developmental projects and works in the area during the next financial year. The officers were asked to conduct a regular field visit to see the status of the implementation of various developmental activities and to get people's feedback.
Meanwhile, Baseer ul Haq Choudhary also took stock of the ongoing snow clearance operation on the Kargil- Zanskar road where the snow has been cleared up to 87 km from Kargil side. He appreciated the snow clearance team for carrying out snow clearance operations despite extreme cold and inhospitable weather conditions.
Executive Engineer Mechanical and Suru Valley Division, Sankoo were asked to provide all facilities and necessary assistance in ensuring snow clearance operations. Also, to ensure uniforms and other warm clothing for snow clearance team at the earliest.
Baseer ul Haq Choudhary directed concerned officers to start snow clearance operations towards Zanskar from February 20 subject to fair weather conditions.