Army organise National Integration tour to 25 women from Aryan Valley
By
Reach Ladakh Correspondent
Leh, Nov 23, 2022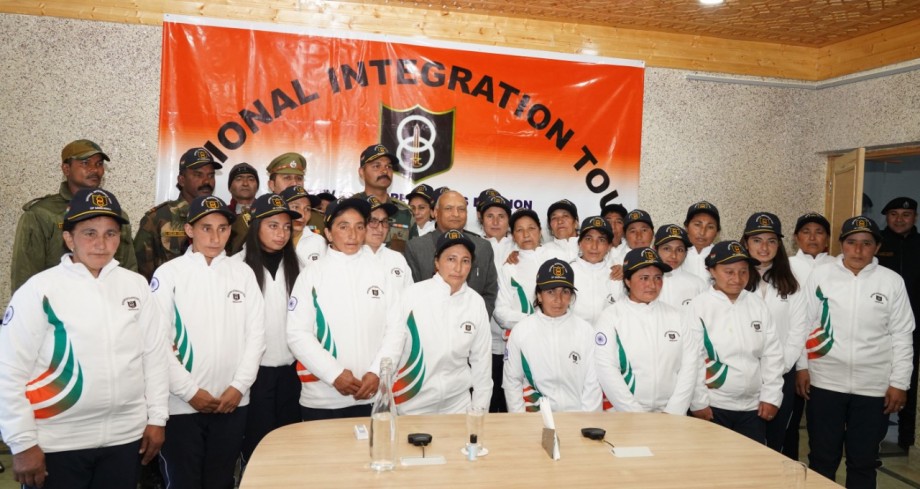 Leh :
25 women from the Aryan valley are going on a National Integration Tour organised by the Forever in Operations Division of the Indian Army as a part of Operation Sadbhavana.
The participants will visit Delhi, Varanasi, and Bodh Gaya during the 17-day National Integration Tour.
Lieutenant Governor of Ladakh, RK Mathur met and interacted with the tour participants, Sarpanch, Dha-Hanu; officials from the Indian Army on November 22.
LG Mathur stated that the 17-day National Integration Tour will be a pilgrimage for the Buddhist women from the Aryan Valley as they would be visiting Buddhist sites at Bodh Gaya and Varanasi. He advised the participants to make the most of the exposure tour and share their experiences with their family members and people from their village on the completion of the exposure tour. He also stated that the exposure tour would provide the participants with the opportunity to meet different people learn about new cultures and also give them an opportunity to inform people from other parts of the country about the rich identity and culture of Ladakh.
LG Mathur stated that the participants will also get the opportunity to meet the President and the Chief of the Indian Army. He also stated about the efforts made by the government of India to develop border area states and UTs such as Ladakh. He informed about the various ongoing developmental activities in the Aryan Valley.
Earlier, officials from the Indian Army informed about the National Integration Tour.