Advisor Umang Narula visits Durbuk Sub-Division
By
Reach Ladakh Correspondent
Durbuk, Jul 12, 2020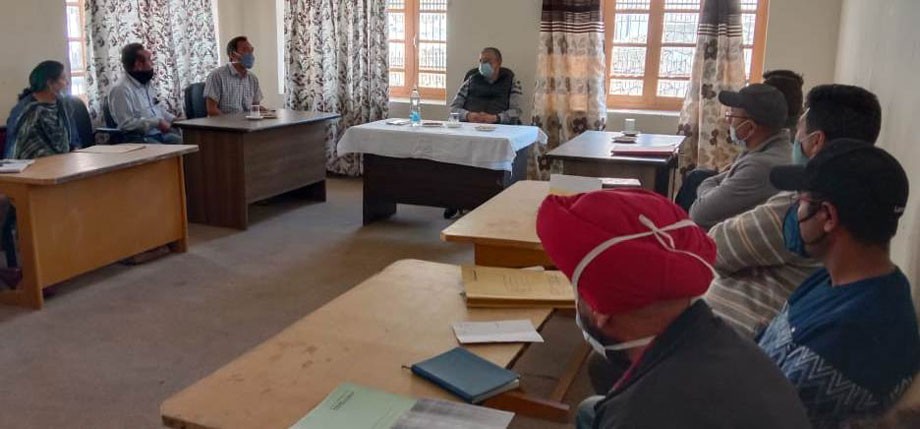 Durbuk :
 Advisor, Umang Narula reviewed the functioning of various departments at Durbuk Sub-division on July 11.
 
Sub Divisional Magistrate, Durbuk, Rigzin Spalgon; Executive Engineer, R&B, Ghulam Nabi; Executive Engineer, I&FC, Tashi Tundup; Executive Engineer, PHE, Sonam Wangchuk, Tehsildar, Durbuk, Abdul Rahim; BDO Durbuk, Dr. Arif and other officers of the Sub-Division.
 
Rigzin Spalgon briefed Umang Narula about various developmental activities and overall functioning of the Departments at the Sub-divisional level. Umang Narula asked the officers to judiciously utilize the remaining period of the working season to execute the works on time.
 
Discussion on the measures to augment the sources of livelihood of the population dependent on livestock rearing was held. Umang Narula asked Irrigation & Flood Control Department to explore new methods of irrigation such as drip irrigation to increase the pasture land.
 
The Animal & Sheep Husbandry Department informed about Pashmina production in the area and the market linkages being facilitated by the department to the producers. Umang Narula instructed the department to guide the livestock dependant population in diversifying their produce by value addition. He advised the department to explore and promote cheese and butter production.
 
The Agriculture and Cooperative Department was asked to encourage organic manure among the farmers and make it available to the farmers, to achieve the objectives of the Mission Organic Development Initiative (MODI) of Ladakh. The department was asked to conduct special drives to ensure 100% coverage of eligible beneficiaries under the beneficiary oriented schemes.
 
Tashi Namgyal, Councillor, Tangtse; Sarpanch Tangtse, and Sarpanch Durbuk met the Advisor and apprised him of various issues pertaining to the area. Sarpanch Man-Pangong and Lambardar Phobrang discussed their grievances with the Advisor.
 
Umang Narula assured that all necessary steps will be taken to redress their grievances.