Advisor Narula set sights on expansion of helicopter services in Ladakh
By
Reach Ladakh Correspondent
Leh, Jul 29, 2020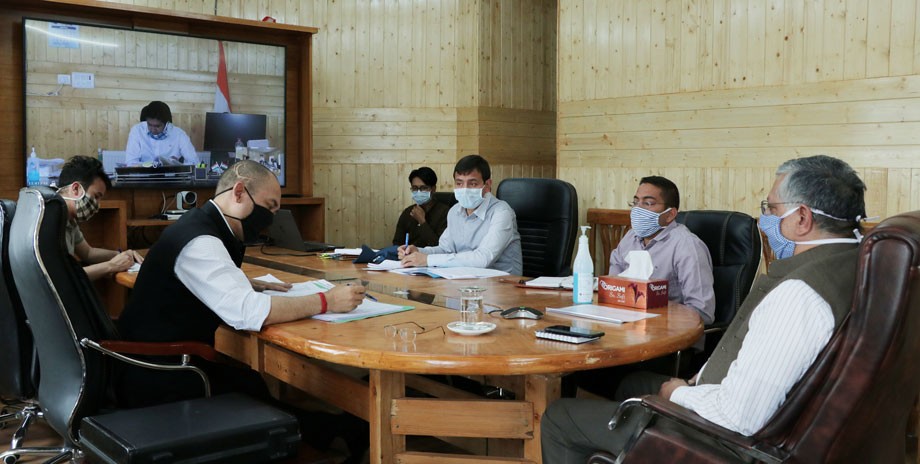 Leh :
Advisor Umang Narula reviewed the functioning of Civil Aviation and Cultural Academy on July 29.
 
Rigzin Samphel, Commissioner Secretary; Deputy Commissioner Leh, Sachin Kumar Vaishya were present in the meeting. While, Deputy Commissioner Kargil, Baseer-Ul-Haq Choudhary attended through video conference.
 
Rigzin Samphel briefed about the availability of helipad facilities at various locations across the Union territory.
 
Umang Narula instructed Deputy Commissioners to submit proposals for the development of helipads at different locations along with hanger facilities at important locations. He asked them to design the hangar facilities in consultation with Pawan Hans Ltd. Also, he asked Commissioner Secretary, Civil Aviation to ensure expenditure of funds under Special Development Package earmarked for the development of helipads.
 
The meeting also discussed the operation of heli-services on new routes. Narula asked Commissioner Secretary Civil Aviation to explore the starting of heli services on Drass-Srinagar, Kargil- Zanskar, Leh- Changthang, and other routes.
 
While reviewing the Cultural Academy, Narula was informed about various activities of the Academy, such Ladakhi Dictionary Project, Village Histories of Ladakh, Digitization of Publications, and various others.
 
The Advisor asked Commissioner Secretary, Culture to submit fresh proposals for the constitution of the academy as an autonomous body.