Advisor Ladakh reviews on-going Har Ghar Tiranga campaign in UT Ladakh
Emphasises people's participation for successful implementation
By
Reach Ladakh Correspondent
Leh, Aug 07, 2022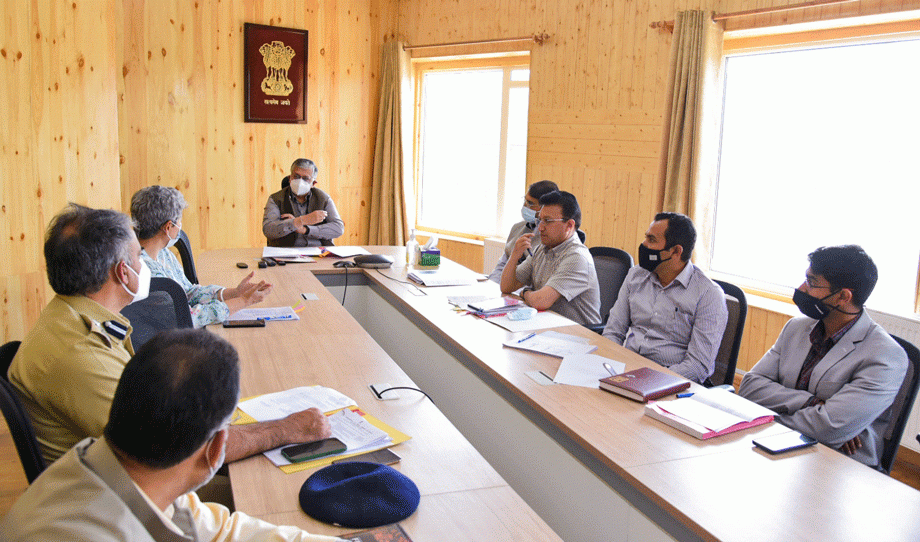 Leh :
Advisor Umang Narula reviewed the preparedness for Har Ghar Tiranga campaign to be organised under Azadi Ka Amrit Mahotsav from 13thto 15thAugust, 2022.
Briefing about the campaign,  Secretary, Tourism & Culture/UT Nodal Officer for Har GharTiranga campaign, Kacho Mehboob Ali Khan, made a presentation and apprised the Advisor and all officers present in the meeting about the significance of the campaign and planned action for every department to make this campaign a resounding success in the UT of Ladakh.
Deputy Commissioners of Leh and Kargil informed the Advisor, UT Ladakh about the series of actions taken/being taken in both the districts and plans for implementation of the Har Ghar Tiranga campaign.
Advisor Narula was informed about receipt of Flags from the Ministry of Culture, Govt. of India and the Flags being prepared in Ladakh through Self-Help Groups under NRLM by the Rural Development Department. Secretary, Tourism & Culture and both DCs apprised the Advisor about the mechanism being put in place for its distribution and sale. The Flags will be made available at a nominal cost of Rs. 22/- per Flag. This has been conceptualised with the aim of making every citizen get involved personally to bring the National Flag home and hoist it at their homes from 13th to 15th August 2022. Further, the role of every department to create awareness about the Tiranga, the freedom struggle and freedom fighters etc. was emphasised.
The Advisor to HLG after detailed discussion directed all Secretaries and Head of Departments of the UT and the districts to ensure availability of the Flag in every village of Ladakh. He emphasised on the involvement of the people throughout the UT for which he directed the Information Department in particular and all other departments in general to reach out to people at grassroot level through the LAHDCs, Councillors, BDCs, prominent citizens and Panchayat Members and ensure their wholehearted participation in the event. The Advisor, UT Ladakh further directed all concerned officers to create awareness through Prabhat Pheries especially in Schools & Colleges, programmes at Amrit Sarovars and also make arrangements for celebration of the event at iconic locations, war memorials, monuments etc.
The Superintendent, Archaeological Survey of India (ASI) apprised the Advisor, UT Ladakh about the action planned by ASI and about ticket free entry to all Centrally-protected monuments from August 5 to August 15.
The Advisor, UT Ladakh stressed on activities to recall the sacrifice of freedom fighters and resolve on the duties and responsibilities as a countryman. He urged that in order to connect to the programme, citizens can 'Pin a Flag' on the website https://harghartiranga.com and people can also upload photographs by clicking 'Selfie with flag'.
Advisor, UT Ladakh emphasised on wider coverage through awareness campaigns for maximum participation of the people of Ladakh. He stressed on documentation of all important events and uploading the same on the Azadi Ka Amrit Mahotsav and Har Ghar Tiranga websites.