84 elderly admitted to old age homes in Leh - 31 to MIMC and 53 to SOS, TCV
By
Rinchen Angmo Chumikchan
LEH, Dec 21, 2016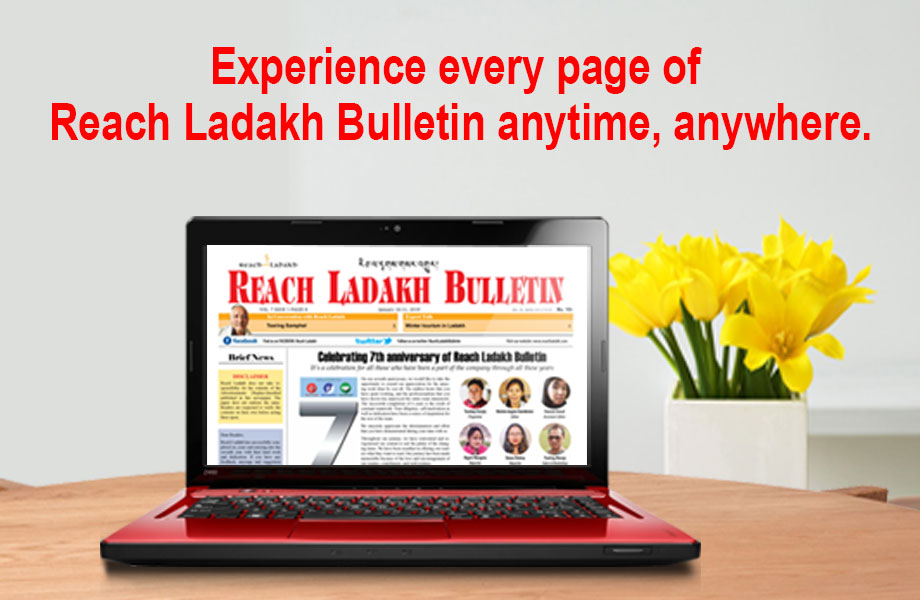 LEH :
Old age homes are now fast becoming the last resort of the elderly even in Ladakh. As many as 31 elderly people have been registered with MIMC's old age home and another 53 with the SOS, TCV old age home, Choglamsar.
The present scenario reveals many sad facts about the state of our society. As the joint family system has fallen apart, the need for old age homes is felt even in our society. Though the elderly people are living happily in the old age homes with good facilities, one can see it as a sign of erosion of our social fabric. The old age moral virtues and values are being gradually eroded in the face of western influences. Practices unheard of have become common among the young.
The Mahabodhi old age home was started in 1995 with only one woman, and the SOS, TCV old age home was started in 1976. Both of them provide food, accommodation and care free of charge.
Nawang Namgyal, the cook who has been working at the Mahabodhi old age home for the last two-and-a- half years, says, "Most of the time we serve local food. We prepare the menu for the whole week. Most of the people here have no families and some are not looked after by their families."
When asked about his experience, he says: "I like it and serving them is like serving my own parents. I think it's very good that we have an old age home here. Otherwise, where will the poor and the old people go when they have nowhere to go."
Times have changed. Today many parents are viewed as a burden, a liability. Many modern couples want to live in a nuclear family so that they can have the so-called privacy. Believe it or not, it is sheer hypocrisy that our people are not coming up with statements even though they feel the other way. The family ties are breaking down.
Nagasena, Secretary, Mahabodhi says, "There are 31 inmates. We take care of them to their last breath. Any elderly person stranded without family care is taken in and given care free of cost."
Tsering Dolker from Sapi, 68, says, "This is my 11th year in Mahabodhi. There was no one to look after me at home though I have two brothers, but they hardly cared for me and I was not well. That's how I ended up here. Gen Sangasena is taking care of us very well. I don't need anything now, just wanted to die peacefully. We all are one family now."
Skalzang Nurboo, 84, from Chushul, is another inmate who is here for the last 11 years. He is here to do prayers and earn merits as he did not get time at his home because he had to work there.
When asked about how it started, Gen. Sangasena, founder of Mahabodhi says, "It was started with one old lady named Abi Laskit. She was abandoned by her family. She was admitted to hospital and for a year nobody came to take her back. Then some people approached me and that's how it started. Earlier there was a small room and gradually more people came up and the building has been extended.
"In Buddhism, if we want to follow the teachings of the Buddha, then it has to be practical. The best dharma for a hungry person is food, for a thirsty person water and for a patient medicine. Likewise, for the homeless, home is the best dharma. The main aim is to fulfill the very basic needs like food, shelter and clothes for the old people," says Sangasena.
Talking about old age homes in European countries, he says, "The elderly there have 5-star facilities but they are not happy. They are not able to accept the fact of getting old, sick and are not able to understand the impermanence of life. That's why most of them are frustrated and depressed and forget to smile. On the other hand, our elderly have the basic facilities but they are happy and satisfied in their life as they understand the impermanence of life."
"The story of emergence of our old age home and other countries' old age homes is different. They are in old age homes not because they are poor but because there is no one to care of them. Their children are well educated and are successful engineers, scientist and doctors. They have everything - from home to money, but don't have children with them and are lonely. But in Ladakh the emergence started for the need and care of those elderly people who are poor and helpless. Gradually, in the next 15 to 20 years, the situation is going to change and people from well-to- do families may have to join old age homes."
Sangasena says we need to educate the younger generation about the negative implications of old age homes. Buddhism is all about compassion and love. Children need to realise that getting rid of their parents and sending them to old age homes will take a cyclic turn. Don't forget that you will also become old one day."
He adds that modern education has serious defects. It is job-oriented and about money-making. It is not about human values and good intention. When we look at education syllabus, the most important thing is missing. Students are asked to mug up old and ancient history. He asks what is more important: the knowledge of the art of living in this short life or the one million-old history. When we are living in a mess, fear and anxiety, we need to focus on spirituality, compassion, kindness and human values. Concern for others should be there in everyone.
Tsetan Dolma, for three years now at the old age home, says, "There was no one to look after me and I used to live in a separate home and it was very difficult for me to bring water as I could not walk easily. My niece requested the authorities and brought me here. I am not married as I was a nun. My parents were very poor."
She says, "The present situation is very sad as when people get old, they are neglected and abandoned. Earlier, we used to live in one family and look after each other but today the situation has changed.
I am very happy here and have no fear of hunger and thirst." Sonam Dorje, 81, from Zanskar, says, "My wife died and I don't have children. My nephew told me to stay back but I did not want to be dependent upon others. Today the situation has changed. When children get married, they want to live in a separate house and the old are neglected and abandoned. There are many old people who are living separately with no one to look after them. I sold all the belongings and went on a pilgrimage and offered some money to a monastery."
Nagasena says, "Most of the elderly who are here do not have anyone to look after them and few of them are not married. Earlier, we used to go and visit villages. But now we get applications from the elderly for admission these days."
Talking about the shift from joint to nuclear family, he says, "With time, we are adopting the western culture and our family bonding is eroding. Earlier, we used to spend quality time with each other but today the situation has changed. It is very difficult to preserve the old values today. We need to focus on it and understand and address it."
Talking about their future plan, Nagasena says that most of the sponsors are foreign nationals. We want to run this by Ladakhis so that we do not have to depend on others. We want to make it sustainable and we are in need of help. The main problem here is finding staff to take care of these elderly people like their own parents. We are planning to facilitate 100 people in the near future.
Talking about funding, he says earlier, we got some grant from the government for five years and then it stopped. We are still sending requests but nothing has been done so far. Naggasena says in all 40 of the old inmates have died so far, and most of the deaths happen in winter due to severely cold weather.
Senior citizens are facing a crisis. The old age homes are their only hope. We need to think on the moral grounds, why do we tend to forget that the reason we are in this world is our parents, the reason we studied is our parents, the reason we were alive all this while is our parents, the reason we survived all the diseases is our mother's care. The hands who made us walk are our parents'. When we were kids we never thought of it but we knew that no matter what, our parents will be by our side. But when our time came to show our respect, to reciprocate the love, to show our gratitude, we back out. But the truth is that even when they are counting their last breath, they are still thinking of us! Isn't the children too insensitive to the elder?