60th anniversary of Battle of Rezang la observed 
Rich tribute paid to the 114 bravehearts of the Chushul Brigade at the Rezang La Memorial
By
Reach Ladakh Correspondent
Changthang, Nov 19, 2022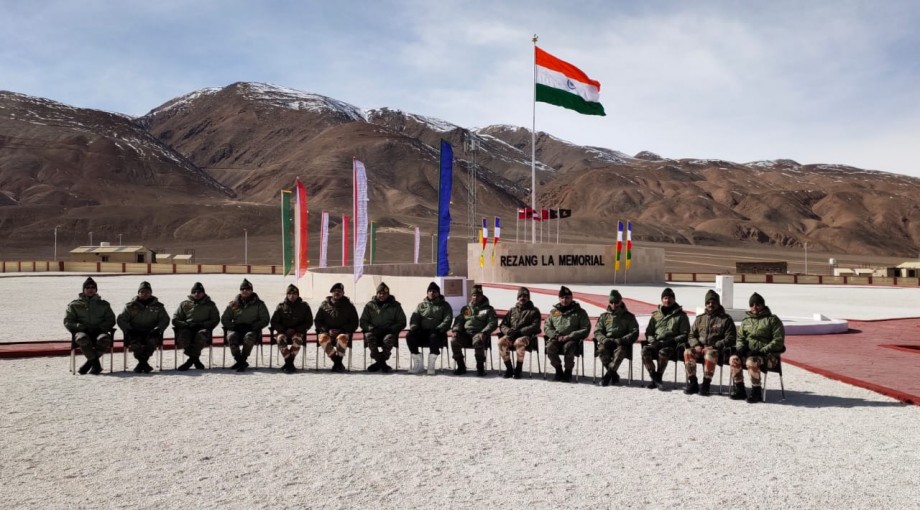 Changthang :
Marking the 60thanniversary of the battle of Rezang La, a rich tribute was paid to the 114 bravehearts of the Chushul Brigade at the Rezang La Memorial on 18 November.
Giridhar Aramane, IAS, Defence Secretary; Lieutenant General, A Sengupta, AVSM, YSM, General Officer Commanding Fire and Fury Corps; General Officer Commanding Uniform Force, Maj Gen V Hariharan; SM and Naresh Shaukand, DIG (Operations), ITBP along with other distinguished guests of Fire & Fury Corps were present.
A special cover was also released on the occasion by the Chief Guest.
The Battle of Rezang La is engraved in military history as one of the greatest last stands of all time- comparable only to a few other battles the world over. The battle stands out for the sheer valor, grit, and dogged determination of C Company of 13 KUMAON that fought to the last man in the 1962 war against China, defending Rezang La in Eastern Ladakh, under the dynamic leadership of Maj Shaitan Singh.
The battle of Rezang La, an epic battle of all times, has immense inspirational value for the entire nation. In November 1962, 13 KUMAON was deployed at Magar Hill and Rezang La in Chushul Sector, Eastern Ladakh, as part of the 114 Infantry Brigade. The early hours of 18 November 1962 witnessed a fierce battle at Rezang La. Against all odds and grossly out-numbered, the val-iant soldiers of 'C' Company, 13 KUMAON, repulsed seven attacks by the Chinese, launched in waves. Despite heavy artillery shelling and fierce Chinese assaults, Maj Shaitan Singh and his 113 brave hearts delivered the heaviest blow to the Chinese. The brave soldiers of 13 KUMAON were honoured with one Param Vir Chakra, Eight Veer Chakras, one Ati Vishisht Seva Medal, four Sena Medals, and one Mention-in-Despatches. Emblazoned on Battalion's colours, these names will forever remind the future generations of the brave men who laid down their lives fighting for our country on 18 November 1962.
The Nation on this day remembers bravehearts and salutes them for their sacrifice.