42 farmers on five-day exposure tour to Leh
By
Reach Ladakh Correspondent
Kargil, Nov 15, 2022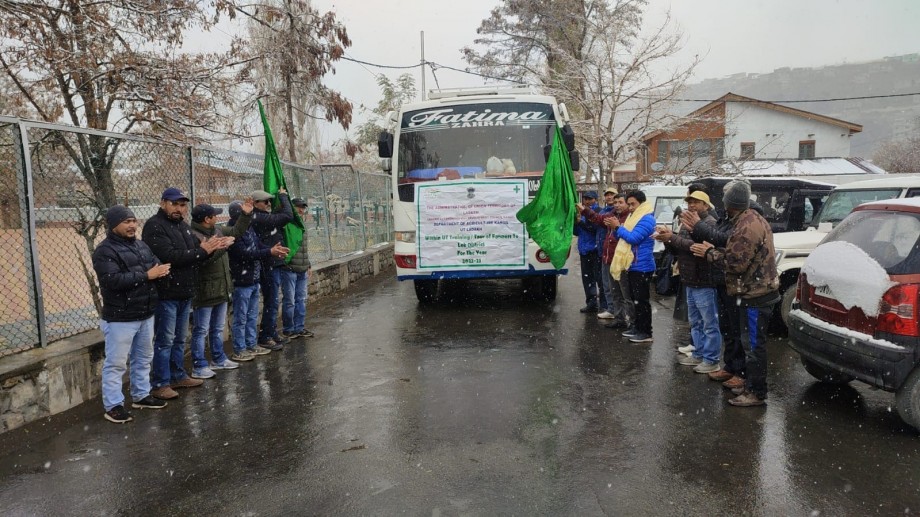 Kargil :
42 farmers and accompanying officers from Agriculture Department Kargil were sent to Leh for 5 days tour on November 14.
Executive Councilor for Agriculture, LAHDC, Kargil Mohsin Ali flagged off the team and wishes the farmer a fruitful tour.
He appraised the Chief Agriculture Officer, Kargil, and Agriculture Department for organizing such exposure tours and advised the accompanying team to provide technical guidance to the farmers during the tour.
He also advised them to motivate farmers to adopt the latest scientific approaches, techniques, and innovations to improve their knowledge, attitudes, and skill to cultivate all kinds of crops to get more produce and to generate employment and income from the agriculture sector.
Chief Agriculture Officer, Kargil advised farmers to take full advantage of such exposure tours in which the department facilitates farmers to directly interact with top-level scientists and experts from Agriculture Research Institutions of UT Ladakh.
He stressed upon the farmers to learn more and more through the basic principle of extension "seeing is believing" and "learning by doing" and practically adopt the scientific ways of crop cultivation for sustainable agriculture and entrepreneurship development by cultivating cash crops in their fields and generating income from it.
The CAO also advised the farmers to visit Ladakh Green Houses at DIHAR Leh and practically visualize and also feel solar energy harnessing power of LGH for the production of fresh and nutritious vegetables during all long winter months in the cold arid region and adopt the latest innovation at the grass root level by each farmer in the district.
In the end, the CAO also briefed farmers about their tour program and training schedules at DIHAR (DRDO), KVK-1 Leh, and Mushroom Centre Agriculture Department Leh.