1st Ladakh AgriTech Mela begins in Leh
By
Reach Ladakh Correspondent
Leh, Aug 10, 2022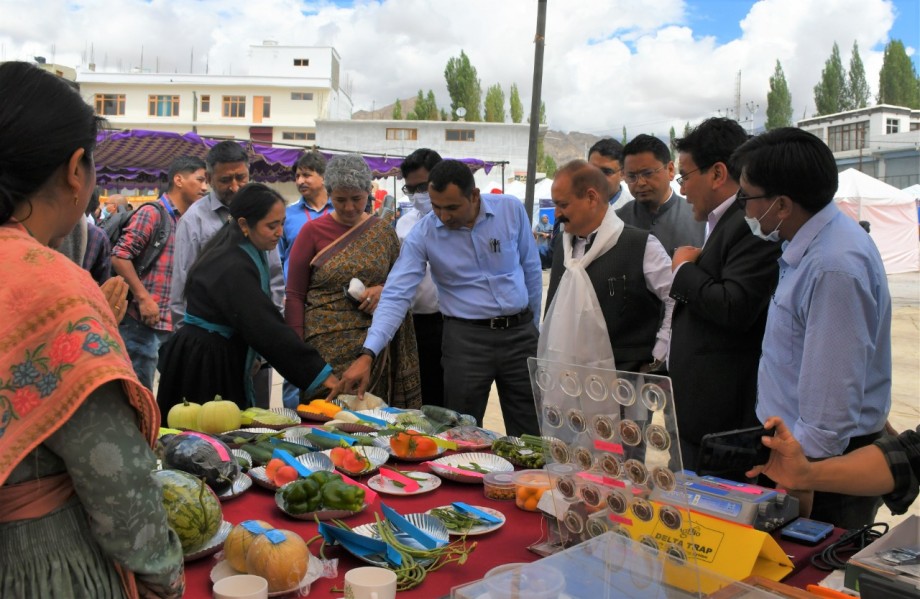 Leh :
The first Ladakh AgriTech Mela began with an inaugural function organised by STI HUB Ladakh in collaboration with LAHDC Leh, CSIR-IMTECH Chandigarh and NIELIT Leh on August 10.
The theme of this year's AgriTech Mela-2022 is "Innovative Farming". More than 50 stalls for the exhibitors from the Agriculture Departments, Agri Industry, Startups, Research Institutions, MSMEs, NGOs, Self Help Groups (SHGs), Progressive Farmers, and Local Vendors. 
Lt. Governor, Ladakh, RK Mathur attended the inaugural function virtually as the chief guest whereas the guests of honours were Dy Chairman, LAHDC Leh, Tsering Angchuk; EC Agriculture, Stanzin Chosphel; EC RDD Tashi Namgyal Yakzee; Principal Secretary Heath, Dr. Pawan Kotwal; Commissioner Secretary Skill Development, Padma Angmo; Secretary Agriculture, Ravinder Kumar; DC Leh Shrikant Suse and Director CSIR-IMTECH Chandigarh, Sanjeev Ghosla. 
Earlier, the officials inaugurated Science, Technology, and Innovation (STI) HUB at the office of NIELIT Leh. The STI Hub is a collaborative project by CSIR-IMTECH Chandigarh, PGIMER Chandigarh and NIELIT Leh to facilitate economic development by supporting and nurturing young innovators to establish small, medium – business enterprises. 
EC Agriculture, LAHDC Leh, Stanzin Chosphel highlighted the need for conducting such an innovative fair for the progressive farmers of Ladakh. He stated that is it is an opportunity for the farmers, young entrepreneurs and students as well as the general public to participate in sharing innovative knowledge on a single platform. He stressed the importance of utilising modern-day technologies for agricultural practices in Ladakh while highlighting the success story of Ladakh Green House. 
He urged local farmers to visit all the stalls at the exhibition site and make the best out of this AgriTech Fair in Leh.
LG Mathur addressed the gathering and expressed his gratitude to all the stakeholders involved in conducting the 1st Ladakh AgriTech Mela.
Secy Agriculture, Ravinder Kumar, and Director CSIR-IMTECH Chandigarh, Sanjeev Ghosla also addressed the gathering. 
DG NIELIT, Dr. MM Tripathi addressed the gathering virtually and expressed gratitude to the LAHDC Leh and the UT Administration, Ladakh for their support in conducting the AgriTech Mela.  
Industry Experts, Scientists from across the nation, HoDs of Agriculture and its Line Departments, Officials of NIELIT, STI HUB & CSIR-IMTECH, head of research Institutes of Leh, and a large number of progressive farmers along with students attended the inaugural event today. All the local collaborators of the event were felicitated in the end.