172 young recruits of Ladakh Scouts take part in passing out parade
By
Stanzin Dasal
GUPUKS, Nov 16, 2018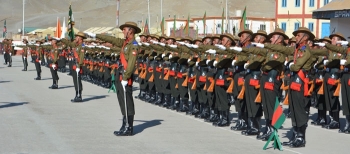 GUPUKS :
A batch of 172 well-trained recruits of Ladakh Scouts pledged to serve the nation on November 10 at Ladakh Scouts Regimental Centre, Leh.
The ceremony was conducted with the highest traditions of the Indian Army and was reviewed by Lieutenant General YK Joshi, GOC Fire & Fury Corps.
Lieutenant General YK Joshi congratulated the young recruits on completion of their training and urged them to give their best in serving the nation. He asked the young soldiers to stand against all odds and challenges to safeguard the nation.
Also, he praised the parents who have encouraged their son to join the Indian Army.
Civil and military dignitaries, war heroes of the regiment and parents of the recruits were present on the occasion.
Medals were awarded to the young soldiers who have excelled in different fields during their training days.
Gaurav Padak was also presented to the serving and retired personnel of the regiment whose sons have joined the regiment.