Two storey silk Thanka displayed at Hemis Festival
By
Reach Ladakh Correspondent
Hemis, Jun 29, 2015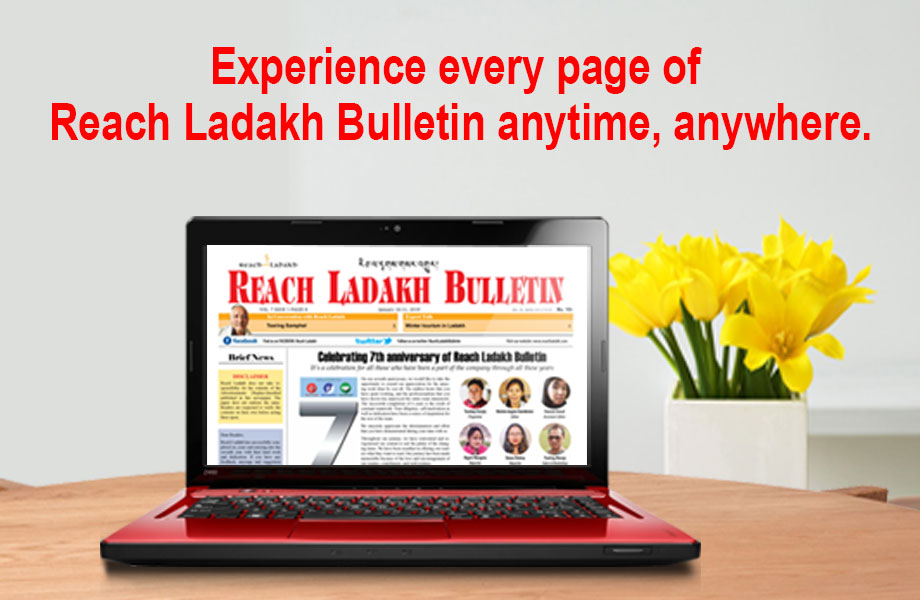 Hemis :
The 2-day Hemis festival was celebrated on 26 & 27 June to commemorate the birth anniversary of Guru Padmasambhava, the 8th century Indian Guru revered for spreading Tantrayana Buddhism throughout the entire Himalayas.
Thousands of spectators amidst religious festivity mood thronged at the Ladakh's biggest Hemis monastery to witness the mask dances performed by the monks to bring peace, prosperity and harmony in the society.
The first mask dancer was thirteen black hat dancers, followed by sixteen dancer wearing copper gilded masks. Then there was eight manifestation of Guru Padmasambhava dance followed by Guru Padma Vajra.
On the occasion, two storey long silk Thangka of Kunkhen Padma Karpo, the fourth reincarnated Lama of Drukpa sect was put on to display for the public in the courtyard during the festival.
Terming the festival as most auspicious for the entire Himalayan region His Eminence Drukpa Thuksey Rinpoche said that the festival has been celebrating continuously since 350 years where monks performing spiritual dance depicting eight manifestations of Guru Padma Sambhava and many other deities to invoke blessing for prosperity, peace, harmony and unity. He also added that festival not only famous among locals but among foreign as well as the domestic tourist that celebrated with religious fervor and gaiety praying for the happiness of all sentient being.
The festival duration is marked as two days local holiday as it involves the entire city including tourists in large numbers.
On the occasion volunteers collected donation for Live to Rescue project known as 'Stray Animal Care & Management Centre' (SACMC) where injured, sick, pregnant stray dogs are being treated at Nang village. On the occasion, they also start signature pledging to opt for vegetarian henceforth.