Tsewang Thinles re-elected LBA president, takes charge
By
Stanzin Dasal
LEH, Dec 15, 2017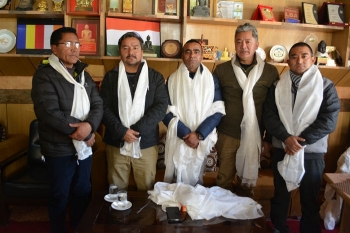 LEH :
The General body meeting of Ladakh Buddhist Association to elect the new office bearers for the year 2018-20 was held on December 6 at Chowkhang Vihara, Leh.
Tsewang Thinles was re-elected unanimously as the President whereas, PT Kunzang and Rinchen Namgyal were elected as Vice president. Sonam Dawa and Tsering Angchuk were elected as General and Joint Secretary respectively.
Expressing gratitude to the Buddhist community of Ladakh region for re-electing him, Tsewang Thinles, President LBA said, "I assure that the team will put every effort and work for the promotion and development of Buddhism, preservation of art, culture, and languages and to maintain communal harmony."
He said, "There have been few incidents which created doubt and poses a question on the communal harmony but all those years we have been living in a very cordial relationship which will be further maintained."
He further stressed the need for all communities to come on one platform to sort out matters and issues in order to maintain and keep the bond of all community strong and cordial.
Rinchen Namgyal, newly elected Vice President, LBA said, "The office has been dissolved on November 6 and the youth wing took the responsibility afterward. The election has been carried out very successfully. In this election, Tsewang Thinles and PT Kunzang both stood for the president post but later PT Kunzang withdrew his name; also Dr. CP Dorjay withdrew his nomination for the Vice-president post."
LBA Youth and women wing will be formed in the month of December.