Training provided to Hajj pilgrims in Kargil
By
Reach Ladakh Correspondent
KARGIL, Jun 29, 2018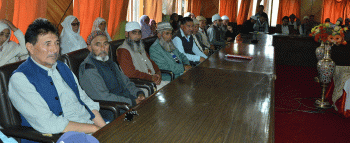 KARGIL :
The 2nd and final phase of a training programme to around 100 pilgrims Hajj pilgrims of Kargil district were held on June 23 at Conference Hall Baroo, Kargil.
The training was conducted by the State Hajj Committee, J&K in collaboration with the Hajj Committee of India and District administration Kargil.
Information and training to the pilgrims with regard to matters pertaining to boarding, lodging, accommodation, currency exchange and other activities to be performed during the pilgrimage were imparted.
They were also briefed about important documents and luggage to be carried along.