One-month Dhamma Pad Yatra of Thai monks concludes in Leh
By
Reach Ladakh Correspondent
CHOGLAMSAR, Jun 30, 2016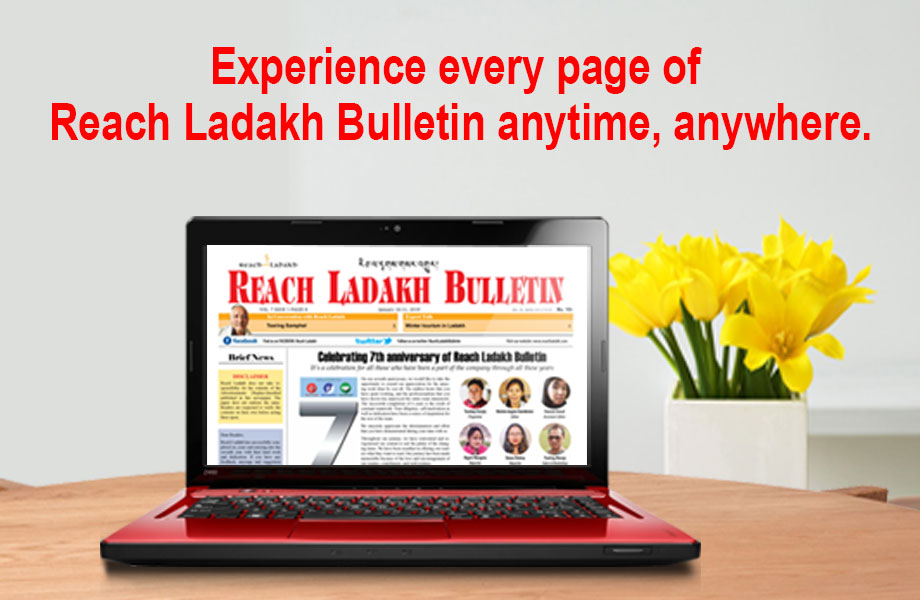 CHOGLAMSAR :
Dhamma Pad Yatra (Peace walk) by 40 venerable monks from Thailand completed on June 17 was accorded with a grand reception at the Mahabodhi International Meditation Centre, Choglamsar, Leh. The one-month long yatra was started from Dharamshala with an aim to promote love, kindness, and compassion in the world.
Monks from Spituk and Karmapa Gompa gave Serthang (special reception to monks of the highest order) to the venerable monks.
His Eminence Skyabjey Togdan Rinpoche, Venerable Sanghasena, the founder president of MIMC, Venerable Lama Lobzang, and General Secretary of International Buddhist Confederation, New Delhi, monks and members of monasteries from Ladakh and many were present to receive the 40 venerable monks from Thailand.
After offering prayers at Bodh Gaya, the venerable monks started the journey from Dharamsala (Himachal Pradesh) after receiving blessings from His Holiness the Dalai Lama. His Holiness provided them with a medical team and other essential amenities for a hustle-free Pad Yatra.
Ven. Sanghasena said, "The reception of the venerable monks from Thailand was beyond my expectations and I am thankful to the people of Ladakh for their wonderful gesture. I am sure that this peace walk will further strengthen the relationship between Thailand and Ladakh. I also hope that the footfall of guests from Thailand will increase in coming years."
Ven. Phrateppariyattisuthi Thongsukas, who lead the team said, "I am very happy and excited to be here in Ladakh. It was Ven. Sanghasena who inspired me to take this peace walk. We have faith in him that he will continue to serve the people. I am grateful to the gratitude shown towards us by the people of Ladakh."
Later, Ven. Sanghasena presented the "Ti-Ratana Award" to Ven. Phrateppariyattisuthi Thongsukas on behalf of LBA, MIMC and the Buddhist community of Ladakh.
Members of Himalayan Buddhist Cultural Association (HBCA), monks and nuns from Central Institute of Buddhist Studies (CIBS), Ven. Thupstan Paldan, P. Namgyal, Tsering Samphel were among the prominent figures who took part in the peace walk from Shey village to Mahabodhi Centre.