Mahakaruna Day observed on Ven. Sangahsena's Birthday
By
Reach Ladakh Correspondent
New Delhi, Jan 10, 2015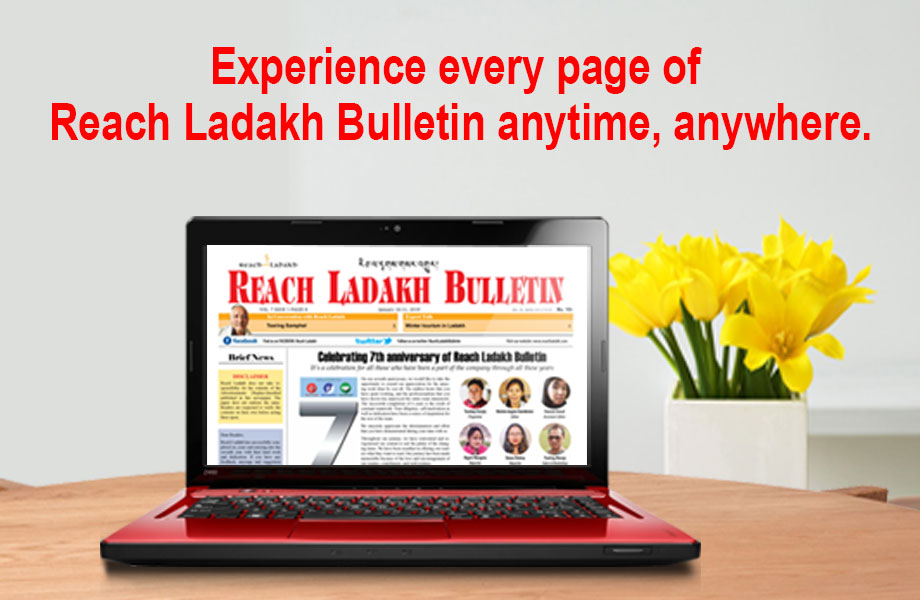 New Delhi :
Mahabodhi International Meditation Centre, Leh-Ladakh in collaboration with International Buddhist Confederation (IBC), New Delhi organized 'Mahakaruna Day' at India Islamic Cultural Centre, New Delhi on 7th January, 2015 on the occasion of Ven. Sanghasena's birth day. The Chief Guest on the occasion was Kiran Rijuji, Minister of State, Home Affairs, Government of India. 
All the prominent religious leaders, eminent spiritual masters, distinguished politicians and social leaders have gathered to share their timeless wisdom and radiate the boundless warmth of their shared compassion for the benefit of all. Many guests from abroad as well as different parts of India were present beside large numbers of Ladakhi families and students in Delhi were also present. 
The program started with lighting of holy lamp by the Chief Guest together with prominent religious leaders followed by venerable monks from Vietnam, Myanmar, Thailand, Laos presented a devotional prayer for world peace. 
Speaking on the occasion Ven. Sanghasena elaborated the importance and purpose of organizing Mahakaruna Day Celebration in New Delhi. "Today's world afflicted with revenge, intolerance and brutal killings of the innocent, the voice and teachings of the Buddha especially Mahakaruna are needed more than ever. It alone can facilitate the changes that are required to create a truly peaceful and harmonious existence for all. On this important day, we recollect and strive personally and collectively realise the inspired guiding principles of karuṇā, as taught by the Buddha and ahiṃsā, as exemplified by Mahatma Gandhi. India is the first nation to drive this awakened aspiration, emboldened by the fact that it has been the crucible of religions like Buddhism, Hinduism, Jainism and Sikhism – all committed to the ideals of karuṇā and ahiṃsā. In due course, faced with so many seemingly insurmountable challenges, karuṇā and ahiṃsā will surely become a global necessity, inspiring radical social, economical, environmental and political changes across the world", he added.
Delivering the key note speech, H.E.Prof. Samdhong Rinpoche, emphasising the important of Karuna in today's world. Rinpoche appreciated Ven. Sanghasena  for implementing karuna in his life through his various spiritual and humanitarian projects in Ladakh. Everyone should put the karuna in action irrespective of caste and creed.
Chief Guest of the occasion, Kiren Jijiju, Minister for State, Home Affairs, Govt. of India, appreciated the organizer for holding such a lovely program for the people of Delhi. He said, "It is the need of honour especially in today's tensed world where violence is taking place everywhere. Hence, we need to put 'Karuna' in our daily life. We need to create a situation where problems are resolved without violence."
On the occasion Mahabodhi Students from Chandigarh, Jammu and Mahabodhi Lhuyang group presented a beautiful cultural program and dhamma song. The students of Ladakh Students Welfare Association, New Delhi also presented a cultural program. 
H.E.Prof. Samdhong Rinpoche, Former Kalon Tripa of Tibetan Govt. in Exile, Dharamsala, Rev.T K LochenTulku Rimpoche, Spiritual Head and Director Key Monastery  Spiti, H.E.Skabje Khamtrak Rinpoche, Spiritual master of Drukpa Lineage of Tibetan Buddhism, HH Swami Chidananda Saraswati, President and Spiritual head of Parmarth Niketan Ashram, Rishikesh, Chalit Maniyakul–Ambassador of Thailand to India-Delhi, Prof. Sudharshan Seneviratne, High Commissioner of Srilanka, New Delhi, H.E. Sanjaasuren Bayaraa, Ambassador of Mongolia to India, Ms Moe Chiba, Section Chief and Program specialist for culture, UNESCO, New Delhi, Ven. Lama Lobzang, President Asoka Mission and Secretary General of International Buddhist Confederation, New Delhi, Thupstan Chhewang, member of parliament from Ladakh, New Delhi, Imam Umer Ahmed Illyasis – Chief Imam, All Indian Imam Organisation, Ezekiel Issac Malekar –Honorary Secretary, Jadah Hyam Synagogue, Dr. Ponchai Pinyapong, President World Fellowship of Buddhist Youth Thailand were also present as Guests of Honour on the occasion.