Leh observes a day's shutdown over attack on Mahabodhi temple, Bodh Gaya
By
Sajjad Hussain
BODH GAYA, Feb 02, 2018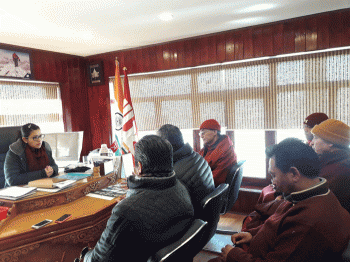 BODH GAYA :
Leh district on 21 January observed complete shutdown protesting against the recovery of a bomb from Bodh Gaya (Bihar) at Mahabodhi Temple. The protest was supported by Ladakh Buddhist Association (LBA) and Ladakh Gonpa Association (LGA).
Meanwhile, a delegation led by PT Kunzang, General Secy. LBA calls Deputy Commissioner Leh and submitted a memorandum.
PT. Kunzang said, "We have submitted a memorandum to Avny Lavasa, Deputy Commissioner in which we have demanded that the case must be handed over to CBI".
He further added that the bomb was recovered before the explosion otherwise there were chances of mass causality.
He told that such incidents happened before and this is not the first incident. Bodhgaya is a sacred place for Buddhist and tight security is a must at such places.
On 19 January, security was beefed up in the Buddhist pilgrimage town of Bodh Gaya in southern Bihar, after a low-intensity crude bomb exploded and two IEDs were recovered.
According to the reports of 'The New Indian Express', the probe was handed over to National Investigation Agency (NIA), which sent a team, including an explosives' expert, to Bodh Gaya on Saturday. Prior to this, a forensic team had reached from Patna to assess the crude bombs, which weighed about 10 kg each, said sources.
With the recovery of the two crude bombs reviving memories of the serial blasts in Bodh Gaya on July 7, 2013, the Bihar government sounded a high alert across the state. Ten bombs had exploded in 2013 in and around the Mahabodhi Temple complex and five people, including two Buddhists monks, were injured.